EJ Scott's raffle on Crowdrise is still going on and he lot of auctions are on EBay and he wants all to know about them.
The raffle is on Crowdrise, and it's a True Blood poster signed by the cast who attended Comic Con 2011. It's a great item that any Truebie would want to have. We previously posted about it here.
But, now he has 89 auctions up on EBay!  They include several signed True Blood items! Including: hoodie, t-shirt, back pack, notebooks, cooler, ball cap, signed magazines by Deborah Ann Woll and much more!
Here's the hoodie that's being auctioned: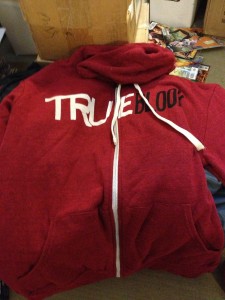 Additionally, Michael McMillian (Rev. Newlin on True Blood) donated a big chunk of his comic book collection to the auctions. Look for (MM) for his books.
There are also comics like: BATMAN, IRON MAN, AVENGERS, CAPTAIN AMERICA, DAREDEVIL, HULK, SPIDER-MAN , SECRET INVASION, FLASH, SUPERMAN, and much more!
See all the items up for auction by going to this address: 
Please consider giving to EJ's charity, The Choroideremia Foundation by donating using the button below: