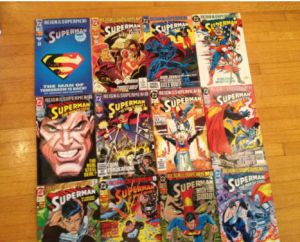 EJ Scott's online garage sale for CHARITY is back!!!
So far 45 auctions are up. All Comic book bundles so far with starting bids at only $1. Money goes to the Choroideremia Research Foundation. Win multiple auctions and request combined shipping to save $$$. Thanks!! Tell your friends and family!! 🙂
Here's a sample of what EJ is offering:
TERMINATOR, ROBOCOP, TOTAL RECALL, LOCKE and KEY, X-MEN, SPIDER-MAN, SPAWN, YOUNGBLOOD, SUPERMAN, SUPERBOY, WAR STORY, the TENTH (SIGNED w/COA), PITT, WILDCATS, NEW TEEN TITANS, LEGION, GI JOE, SQUADRON SUPREME, TRANSFORMERS, WONDER WOMAN, HOUSE of M and more!!
See all of the items over at EBAY.com.