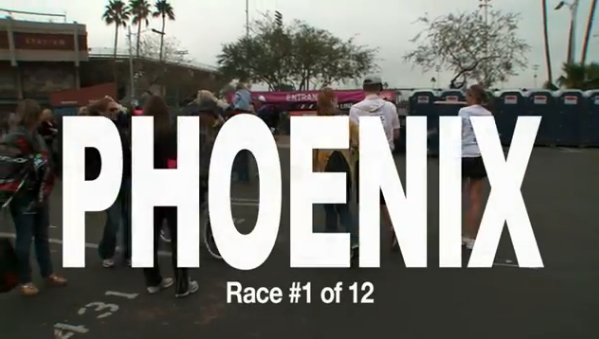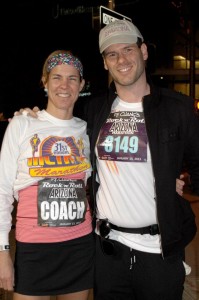 Rock n Roll Arizona FINISH LINE – EJ Scott (Blind Runner) 1/15/12 PT.
Marathon day… January 15th 2012
My eyes popped open at 415 am. And as much as i wanted them to close again, they were wide awake. I grabbed my iPad right next to the bed and did my usual checking up on all the sites I usually do. Tweeting about going to run today. Deb was up too. She didnt too well either. We start getting ready and get Janelle and the guys. Luckily Deb had bought us some breakfast which consisted on bananas, bagels, peanut butter, water and Gatorade. I loaded up my utility belt and we took two cars to the start line. Actually Janelle, Patrick and I were dropped off while John and Deb figured out parking.
It was still dark when we got to the start line. And not nearly as crowded as I was expecting. All the Chicago marathons (2 halves and a full) were BIG and crazy crowded. We had heard the day before that there were only 5,000 people running the full. And 20,000 or so running the half . Both on separate courses so this was going to be different.
We found a piece of concrete in a parking lot to stretch. its a city where we started so grass was non existent from what i could tell.
We got in line close to 730am. That's the set start time. I put my blindfold on said good bye to my girlfriend and folded up my cane. the sun was almost up by now but it looked like it was going to be overcast. I was all set to go. we all were but there kept being announcements of delays. They ended up delaying the race a half an hour. I heard it was cuz of pace truck, i heard it was because of the light rail (train) that ran through the city. Who knows. They finally started. And I crossed the start line at 8:06:14 am. How I run is i hold on to the forearm of my runner. I have tried other ways and that seems to be best for me.
I had a sign on my back "BLIND RUNNER!! with Choroideremia. 1st of 12 marathons in 2012. CURECHM.org"
The race was peppered with people saying really encouraging things to me as they ran by me or vice versa.
Biggest disappointment for me was the amount of pee breaks I took, which was strange because i didn't drink much at all before the race. and most of the breaks were early on. But if that's the worst of it then that's ok. 5 breaks altogether. I told Janelle the plan was to run to the mile marker and then walk for a minute and keep going til the end. It went pretty well. I started feeling like i was running after mile 10. My left shoulder was starting to hurt bad by then, i think because of the tetanus shot i had a few days earlier. By mile 11 I had to change sides. So now i was holding onto to Janelles left forearm with my right hand. That was much better.
I ate Cliff Bloks and fruity jello block that is meant to supply energy, and id fuel up on water and Gatorade. Every so often there were live bands set up to play and massacre covered songs, but mostly they were good :). I only heard about 30 seconds of each of them anyway.
Because there were s few people running was much easier, mentally and physically. Same with the side lines support. Far less people than Chicago so there were big stretches of calm silence which i greatly appreciated. It made the occasional WOOHOOOing that much more meaningful. That was hard for me during the Chicago ones. I was often overwhelmed audibly forthose races. Since i cant see and have to listen for instructions it was a bit crazy. In Chicago I had a bad mental break at about mile 22. After running past mile 20 in Arizona, sure i was tired and feeling soreness in my shoulders, neck and legs but my mind felt strong. I told janelle after mile 22 id like to walk a minute run for 5 and so on. And we did that for a couple miles. And by the time mile 24 rolled around i could feel the finish line and i said no to any more breaks. It was hard and those last two were the hardest ones. There soreness and some sharp pains here and there that would make me make a "ah" or "ugh" sound. But I was so close!!!
Janelle would tell me when we were getting closer and the people were higher in numbers as we got closer. I could hear music, people cheering. Janelle said she saw people with finishers medals. We rounded a corner and Janelle said we were 100 yards away. THecrowds at that point were loud and cheering and it gave me an extra shot of adrenaline and life. I heard an announcer say my name over a PA system and where i was from and what i was doing. That was a surprise too. I crossed the finish at 5:34:42. I purposely wasnt asking about my times as I ran. I didnt want to try to break any records so i can just run without that pressure. BUT it turns out i did beat my record by 3 MINUTES! Not too shabby.
Immediately after crossing the finish I heard the announcer mention the man finishing behind me saying it was his first marathon at age 75. Way to bring me down announcer guy.
I hugged Janelle and thanked her. I got a water and gatorade a bagel a banana, i devoured all of it. I wasnt too sweaty cuz there was a nice steady cooling breeze all day and that sun was mostly covered by clouds. Fantastic running weather.
I took my blindfold off but had to wait to actually open my eyes. That takes some adjustment. But then i got to see my girlfriend and get pics taken and feel that runners high people talk about. I only feel it when its over. 🙂
Deborah was great. She popped up a few times along the way and gave me a boost in my mood. I'm glad she surprised me.
I hobbled to the car. I called it my Frankenstein walk. The 5 of us piled into Johns tiny 2 door. And drove back to the hotel (deb and john went to get her car). Janelle and i took turns showering and then she had o go and catch her flight back to Maryland. She'll be doing a few more races with me this year. Shes amazing!
Patrick and John drove back to LA shortly after. Pat was driven around on a motorcycle for a lot of the race so he could get footage of me running. And I know Jose from the Torch Theatre was oyt there grabbing some footage too. Thanks to those guys. I cant wait to see it and show people.
Deb and I drove back today. It was a long ride I was very sore and Deb ended up getting sick (she may have allergies? we're not sure). But It was a great experience. I did feel afterwards like "yeah i gotta do that 11 more times." so my victory was short lived. 🙂
Next Stop Austin, Texas February 19th.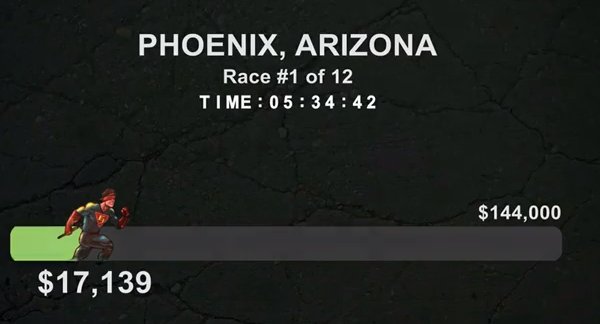 I havent hit my $144,000 goal yet. Maybe you could help? Also still need some press. Know anyone in Austin to help with that?
You can donate at the PayPal button on this page or go to www.curechm.org. Thank you!!
EJ
Here is THE OFFICIAL footage from this marathon.I ran in Arizona. I ran through Phoenix, Tempe and Scottsdale with my guide and cousin in law, Janelle. You'll see me going for my physical about a week before my first marathon.
Photos:

view more images from this album
Please donate if you can also.