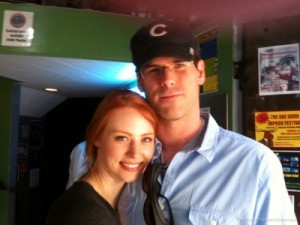 Just out is a feature about EJ Scott By MAGGIE COUGHLAN at People.com.  Below is a portion of that article where they talk about his quest to run 12 marathons in 12 months in 2012.
True Blood star Deborah Ann Woll stands by her man – and admires his drive. 
The actress is dating E.J. Scott, 36, an activist who is slowly losing his sight and expects to be fully blind by age 50.
Scott is running marathons to raise funds and awareness about choroideremia, a degenerative eye disease that reduces sight to "tunnel vision" before ultimately leaving those who are diagnosed legally blind, reports Men's Fitness in its November issue, on newsstands now.
Scott – who has dated Woll, 27, for nearly five years – began running marathons to raise money for the disease in January 2012. He plans to run one marathon a month in a different state for 12 months.
"I thought he was very brave to be so open about it. I hadn't heard of the disease before I met E.J., and I was very moved by his story," Woll says. "I thought that anyone would could have such struggle in his life and still be positive and motivated is a very special person."
Scott learned he had the disease at age 27, when his younger brother (then 16) was diagnosed. He would soon learn his older sister was a carrier and his maternal grandfather also suffered from choroideremia.
"I was scared, really angry, and pissed that I was 27 years old and just hearing about it," Scott says. "It was screwing up my whole family because we all got tested at the same time. It explained a lot."
Despite his condition, Scott decided to move to Los Angeles to follow his dream of becoming an entertainer. Prior to his diagnosis, he had taken stand-up comedy and improv classes.
While living in L.A., Scott met Woll on an online dating site. After some correspondence, he invited her to see him perform. Scott later moved to Chicago to continue working in improv, but their relationship survived the distance.

To read the rest of this aritcle  by going to: people.com