As we previously reported, EJ Scott was interviewed by Matt Caputo for the November edition of Men's Health Magazine. Below is the interview as it is in the magazine.
Men's Fitness, November 2012
Photographer: Ryan Pfluger
Photo Director: Jane Seymour
Associate Photo Editor: Krystal Atwater
It's a hot summer weekday in Manhattan, perfect for finding a cool bar and grabbing an afternoon drink. E.J Scott makes his way into the Isola Trattoria, the restaurant in the lobby of the Mondrian Soho hotel, guided by a white cane. Scott – in town with his girlfriend, Deborah Ann Woll, who plays Jessica Hamby on HBO's True Blood – spots a tall Peroni draught he's like to try and orders one.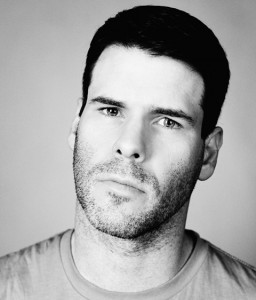 Isola has only recently opened, and everything from the silverware to the menus is new. The ceilings and walls are made of glass, allowing the sun to pour in and ricochet off the dozen or so glass chandeliers overhead. It's a fine place to relax and rendezvous, but Scott can't hang out here today.
"This is a beautiful hotel, but the hallways are really dark and inside my room is mostly windows," says Scott, 36. "It takes some getting used to." White cane in one hand and a tall Peroni in the other, Scott agrees Isola is cool, but the inescapable sunshine is too much for his eyes to take. In fact, Scott can only see so much of Isola's hip décor without turning his head and focusing intensely. Scott suffers from choroideremia, a degenerative disease that causes progressive loss of vision due to degeneration of the choroid and retina. It will soon leave him totally blind.
Since January 2012, Scott has been on pace to run one marathon per month in a different state for 12 months. He's not a runner and has never liked sports, but he's hoping the stunt will generate support to help find a cure for his rare condition, even if he can't outrun the disease himself.
Scott, wearing a baseball cap low past his eyebrows, settles his beer on a coffee table in the Mondrian's tiny lobby. Woll stops to kiss him good luck for his interview with Men's Fitness before heading inside Isola with friends.
Although he says he hasn't met any of his monthly fundraising goals, Scott's hoping that by participating in national marathons he'll build awareness of choroi- deremia, and in turn accelerate research being done by some hopeful scientists.
In 2003, Scott, then 27, was working miserable jobs. He was a nighttime I.R.S. clerk, he stacked piles of newspapers for delivery, and stocked cans at a beer distributor. He also learned he had choroideremia. The disease was diagnosed in Scott's younger brother, while he was being tested for something unrelated at just 16. Kevin having the disease meant E.J. did, too, and that their older sister, Kristen, was a carrier.
The timing was horrible. Scott, despite his multiple occupations, had finally fig-ured out where he wanted his life to take him. Before landing at the I.R.S., Scott took classes at what is now called The New York Conservatory for Dramatic Arts and tried his hand at stand-up and improv. At the time of the diagnosis, Scott had decided to move to Los Angeles to follow his dream. "I was scared, really angry, and pissed that I was 27 years old and just hearing about it," Scott says. "It was screwing up my whole family because we all got tested at the same time. It explained a lot."
Choroideremia is a degenerative eye disease that attacks sight peripherally. It gradually reduces sight to a dim "tunnel vision" before complete blindness. There is no cure for the disease and any development would likely only save the vision Scott has now. In 2003, he had 70 degrees of sight per eye, and today his vision has degenerated to less than 15 degrees.
To read the rest of this interview, click here.
Please consider giving to EJ's charity, The Choroideremia Foundation by donating using the button below: