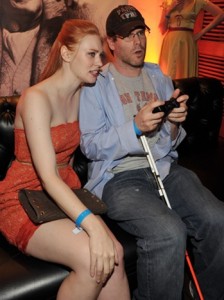 EJ Scott has been interviewed by the Hollywood Reporter about his quest to run 12 marathons in 12 months in 2012.
To read this entire interview go to: hollywoodreporter.com
When interviewed, EJ said that the reason for this journey is to help research efforts and to find a cure for this disease.
Choroideremia is a rare genetic disease in which the essential proteins in the person's eyes and the loss of cells protecting the eyes from light sensitivity cause the person to lose their vision. Though there isn't currently a cure, Scott said he hopes for breakthroughs for the sake of others with the disease, who include including his brother and nephew, and he looks to Dr. Jean Bennett, of the University of Pennsylvania, who is focused on finding a treatment.
"There's a panic element to it of, 'Oh no, I don't want this to happen to me, I don't want this to happen to my brother, I don't want this to happen to my nephews,'" Scott said. "I think it's unfair that blindness kind of gets overlooked and I think we also are responsible for part of that. A lot of people that go through what I'm going through don't talk about it, they don't ask for help. They are in denial about it and no one's going to help you if you don't ask for help, so I think the worst thing is silence and I'm speaking up."
Along the way, Scott has rallied support from Woll's True Blood cast-mates through signed donations that he has auctioned off, as well as that of cyclist Lance Armstrong, who commended his bravery in an on-camera interview.
Woll has been a great support for Scott as well. "I have to be the can do and positive voice," she told THR. "So when his motivation lags I can be there to remind him how incredible he is and what a huge difference he is making for not only those who suffer from Choroideremia but also all those who are inspired by his determination and spirit. Otherwise it's all him. I'm just proud to hold his hand."
"I guess reward-wise, it's happening and I'm almost done with it," Scott said about the journey so far. "I'm not quite reaching my goal, but I'll definitely be rewarded once I cross that finish line in Las Vegas, that will be a big milestone for me, no matter what I've done, that will be something."
EJ has raised $70,000 to date, almost halfway to his goal of $144,000, he said.  You can give to EJ's charity, The Choroideremia Foundation by donating using the button below: