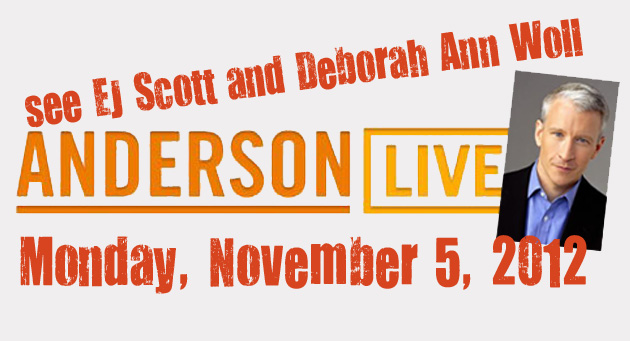 UPDATE: DUE TO THE CANCELLATION OF THE NEW YORK CITY MARATHON, UNFORTUNATELY, THIS APPEARANCE HAS ALSO BEEN CANCELED!
EJ Scott and his girlfriend, Deborah Ann Woll are to appear on Anderson Cooper's ANDERSON LIVE show this Monday, November 5, 2012 the daytime show hosted by Anderson Cooper.
On the show, EJ and Deborah Ann will be discussing EJ's quest to run twelve marathons in 12 months and his experience in the New York Marathon, his fight to save his sight by finding a cure for Choroideremia, and probably much more.
EJ will be running his 11th of 12 marathons in the New York City Marathon on Sunday, November 4. There were rumors that the marathon would have to be cancelled because of the devastation the city has suffered from Hurricane Sandy, but it's to go, none the less. New Yorker's are a tough lot and we're glad for it.
Today, the New York Times reported the following:
The race, the world's largest with a field of nearly 50,000 runners, is scheduled for Sunday morning — barely six days after Hurricane Sandy left parts of the city in ruins and crippled its transportation system. Mayor Michael R. Bloomberg and marathon organizers have said the race will go on as scheduled, as it has every year since 1970, as a symbol of the city's ability to rally after hard times.
"It's a great event for New York, and I think for those who were lost, you know, you've got to believe they would want us to have an economy and have a city go on for those that they left behind," Bloomberg said.
So, be sure to mark your calendars with a reminder to look at "Anderson LIVE" on Monday, November 5, 2012 to see EJ and Deborah Ann's appearance.