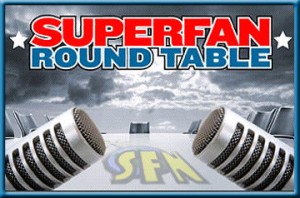 EJ is doing a "Celebrity Superfan Roundtable" this Friday 11-1 PST and 2-4 EST LIVE on Howard 101 on SIRIUS XM. The hosts are Jeff Probst and Natalie Maines from Dixie Chicks.
EJ says:
After I ran the marathon in New York in November Jeff Probst was interested in having Deborah and I on his day time talk show. We had a great time being interviewed by him and it was a real treat to meet him since Deb and I watch Survivor each week and think he's the best Competition/Reality host ever! I always knew Jeff was a big Howard Stern fan because I am also a huge fan of Howard's.
After the interview we talked briefly about Howard and I mentioned I did Superfan Roundtable (where just regular listeners and fans come and talk about the show) a couple of months previously. Jeff said he and Natalie Maines were going to host another edition of "Celebrity Superfan Roundtable" pretty soon and invited me to come. I said yes immediately (even though I'm no celebrity); I wouldn't miss this for anything. Natalie and Jeff have done a few of the "Celebrity" editions in the past and they are always enjoyable. I'm really touched to be asked and excited to see who else will be there. And, I can talk about Howard Stern all day long. Since I've been a loyal listen for over 22 years. I don't know in what capacity I'll be involved, but I'm looking forward to whatever they want to do.
So please listen this Friday April 19th 11am- 1pm Pacific (2-4 Eastern) on Howard 101 on SIRIUSXM Radio.
And Baba Booey to y'all!!
EJ