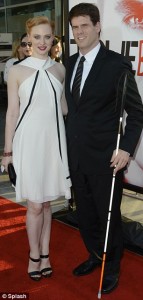 Virginia Skeels of The Daily Mail.co.uk has written a lovely article about the EJ Scott's efforts and what Deborah Ann Woll, his girlfriend has to say about it. 
Below is a portion of that article:
As a beautiful young star with a role in a hit TV show, you might think Deborah Ann Woll lives a charmed life.
But the True Blood actress has revealed that her long-term boyfriend EJ Scott is battling an incurable disease which is turning him blind.
Deborah, who plays vampire Jessica in the show, shared his incredible story in an effort to raise awareness of the degenerative condition choroideremia.
EJ, the actress's partner of nearly five years, was diagnosed with the disease when he was just 27 and will soon lose his sight completely.
Choroideremia is a degenerative disease that causes progressive loss of vision due to degeneration of the choroid and retina.
'I hadn't heard of the disease before I met E.J., and I was very moved by his story,' says the 27-year-old actress, who met her boyfriend on an online dating site.
'I thought that anyone who could have such struggle in his life and still be positive and motivated is a very special person.'
Scott had written about his condition to pre-inform potential dates.
'I thought he was very brave to be so open about it,' says Woll in the November issue of Men's Fitness.
'A lot of people put blindness on their list of worst fears,' says Woll softly, as she looks at her boyfriend.
'It's on mine,' he says.
source: cinemablend.com