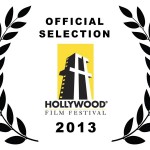 The documentary about EJ Scott's 12 marathons in 12 months in 2012,"Running Blind" is having its official LA premiere this Sunday, October 20 as part of the Hollywood Film Festival. The event will take place at the wonderful Arclight Cinemas in Hollywood at 3PM, and Ryan Suffern, the director will be on hand for a Q&A following the film (EJ will be in Indianapolis for our screening that day at the Heartland Film Festival).
We've also added a few other screenings in the LA-area over the next two months with a couple of them on the West side in case that's easier for folks to get to instead of Hollywood…
October 17th – My Hero Project – Santa Monica, CA (Q&A w/ Ryan & EJ)
November 11th – IO West Theater – Hollywood, CA (Q&A w/ Ryan, EJ & Deborah)
November 16th – Creative Activist Arts Festival – Santa Monica, CA (Q&A w/ Ryan)
Here are links to the film's Twitter & Instagram accounts for the film.
We hope you'll all come out and thanks so much for your support.