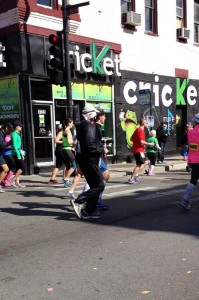 EJ Scott finished the Chicago Marathon Sunday at 2:16:03 pm. EJ was number 448, FINISH, Elapsed Time: 06:55:32, Pace: 19:38 (UNOFFICIAL)
Before the race, The Bleacher Report, listed EJ on their list of Chicago Marathon 2012 Runners to Watch For at the Finish Line. Although he didn't have his best run, he finished and he sure continues to inspire and show us his courage.
Here's  what  they had to say:

EJ Scott 
Running a marathon is difficult enough, but running one blindfolded sounds downright crazy.
However, that's what 36-year-old EJ Scott is attempting to do at the 2012 Chicago Marathon, and for a very worthy cause. The Chicago Tribune recently chronicled Scott's quest:
Scott suffers from a rare retinal degenerative disease, choroidermia, which eventually leads to total blindness. And though he has been running regularly for the last few years, this year he set an ambitious goal: to run 12 marathons in 12 cities in one year while raising more than 100,000 dollars for research for choroidermia.
Scott won't win on Sunday, but it's impossible not to be rooting for him and his cause.
EJ posted on his facebook page after the race: Had some physical complications during the race, that's why the long time. I'm ok tho. Nothing serious.