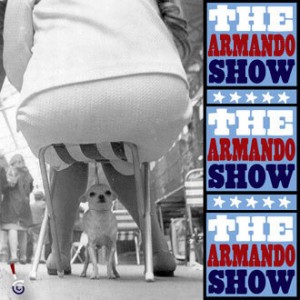 EJ Scott will be on the Armondo Show this Saturday, April 20 at 9:00pm at the IOWest in Hollywood.
Ej says: Some of the best improv in the city! Good times. 🙂 So, if you're in LA, stop by and see EJ perform.
The Armando Show is a 90-minute long improvised comedy show inspired by an audience suggestion, which the celebrity hosts interpret through a personal and truthful improvised monologue. Inspired by that monologue, a cast composed of veteran Chicago and Los Angeles alumni perform scenes that, in turn, inspire a response from Armando. This propels hilarious interchanges between Armando's monologues and the company's scenes.
LA Times reviewer F. Kathleen Foley describes the performance by saying, " …this free-associative repetition melds into Zen-like flights of fancy…."

This show is the reason to see live improv in Los Angeles.
iO West (formerly known as the "Improv Olympic West"), the Los Angeles arm of the world-famous iO in Chicago, presents the best improvisation west of the Windy City.
Reservations ar estrongly reocmmended. The theater is located at 6366 Hollywood Blvd. in Hollywood, California. Valet Parking is available.
source: ioimprov.com