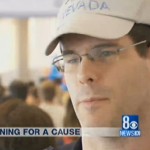 EJ Scott is in Las Vegas right now getting ready for his very last marathon of the year. This will be his 12th marathon in 2012 and he will have ran over 312 miles and raised, at this moment, over $90,000 for his charity Choroideremia.
He dropped by the Sands Expo and Convention Center in Las Vegas on Friday and picked up his race number like anybody else, but probably be the only one running the Rock 'n' Roll Las Vegas Marathon blindfolded.
"It can really test a person," Scott said. "It can test a family. Find out what you're made of. I'm stronger than I thought I was."
Scott isn't talking about the marathons he's run. Instead, he's talking about the disease he was diagnosed with 10 years ago.
"It's called choroideremia and it's a hereditary degenerative eye disease," Scott said. "It attacks peripherally and erodes it over time to total blindness. I'm legally blind now."
Scott weaved through the crowd at the convention center with the help of a cane and squinted to find his race number.
"I'm slowly going blind as time goes along," he said. "So I use the cane to help me not bump into things as much and keep safe."
He has run one marathon a month to raise money to fight the disease that afflicts him and many members of his family.
He said the thought of helping them is what drives him to leg out all those miles.
"Those miles are the hardest, so I'll say, 'This one's for my nephew Liam,' 'This one's for my nephew Aiden,' 'This one's for my grandfather,' 'This one's for my brother,' and that helps me get through."
When Scott crosses the finish line Sunday he'll have logged over 312 miles and raised over $90,000 for his cause.
"It's going to be great," he said. "I've imagined it, but I can't really grasp what it will be like finally finishing."
source: 8 News NOW