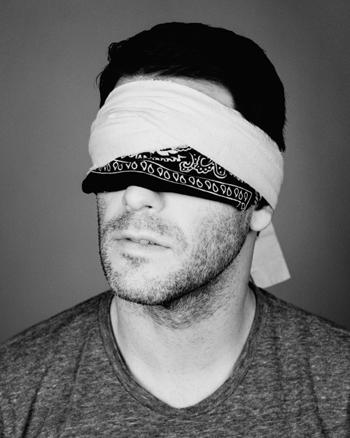 EJ Scott is featured in an article at Men Fitness.com written by Matt Caputo. In the article below, Mr. Caputo describes EJ's quests by saying:
The 36-year-old is racing across America to build awareness and raise funds to beat the disease that is slowly taking away his sight.
Below is a part of that article. When you read it, you will know why EJ is so dedicated to his cause and why you, too should support his efforts.
Since January 2012, Scott has been on pace to run one marathon per month in a different state for 12 months. He's not a runner and has never liked sports, but he's hoping the stunt will generate support to help find a cure for his rare condition, even if he can't outrun the disease himself.
Scott, wearing a baseball cap low past his eyebrows, settles his beer on a coffee table in the Mondrian's tiny lobby. Woll stops to kiss him good luck for his interview with Men's Fitness before heading inside Isola with friends.
Although he says he hasn't met any of his monthly fundraising goals, Scott's hoping that by participating in national marathons he'll build awareness of choroideremia, and in turn accelerate research being done by some hopeful scientists.
In 2003, Scott, then 27, was working miserable jobs. He was a nighttime I.R.S. clerk, he stacked piles of newspapers for delivery, and stocked cans at a beer distributor. He also learned he had choroideremia. The disease was diagnosed in Scott's younger brother, while he was being tested for something unrelated at just 16. Kevin having the disease meant E.J. did, too, and that their older sister, Kristen, was a carrier.
The timing was horrible. Scott, despite his multiple occupations, had finally figured out where he wanted his life to take him. Before landing at the I.R.S., Scott took classes at what is now called The New York Conservatory for Dramatic Arts and tried his hand at stand-up and improv. At the time of the diagnosis, Scott had decided to move to Los Angeles to follow his dream. "I was scared, really angry, and pissed that I was 27 years old and just hearing about it," Scott says. "It was screwing up my whole family because we all got tested at the same time. It explained a lot."
Choroideremia is a degenerative eye disease that attacks sight peripherally. It gradually reduces sight to a dim "tunnel vision" before complete blindness. There is no cure for the disease and any development would likely only save the vision Scott has now. In 2003, he had 70 degrees of sight per eye, and today his vision has degenerated to less than 15 degrees.
Scott went through denial. His maternal grandfather, he learned, also had choroideremia. He didn't want to believe something like this could happen to him, or worse, that his family had known and kept it from him. Growing up, Scott saw "bursts of light" in his eyes like firecrackers trapped inside his eyelids. A doctor cleared him but Scott says he was clumsy and had trouble focusing, which he now attributes to poor vision. It further explained why Scott had to squint so much as he got older. He has been legally blind since age 32. "It's progressing pretty quickly for E.J.," says Dr. Jean Bennet, a scientist studying chororideremia at the University of Pennsylvania. "I'd expect him to be totally blind by about 40 or so."
After once having too many jobs, Scott couldn't find one he could work with choroideremia, and he now collects disability benefits. He stopped driving, must stay in to avoid sunlight, and wears a cap and special shades if he does go out. "I have rough moments sometimes and real rough ones knowing my family is going through this, not just me," Scott says.
Eventually, Scott cleared his head. Living in LA, he met Woll surfing an online dating site and invited her to see him perform after some correspondence. He moved to Chicago to pursue the improv theater work he considers his life's passion, but their relationship endured the distance for three years.
Woll was fully aware of Scott's condition. After a few awkward meetings, Scott had written about having the disease directly on his profile to pre-inform potential dates. "I thought he was very brave to be so open about it. I hadn't heard of the disease before I met E.J., and I was very moved by his story," says Woll, who has now dated Scott for nearly five years. "I thought that anyone who could have such struggle in his life and still be positive and motivated is a very special person."
As Scott's Peroni glass empties, he describes how as his vision became weaker, his mission became clearer. Once he regained confidence, Scott was compelled to raise awareness about choroideremia however he could. He started with what he knew, hosting stand-up comedy events to raise money for the Choroideremia Research Foundation. He eventually moved back to L.A. and started running marathons.
Scott ran his first half marathon in August 2010, a second that September, and his first full marathon in November 2010 in Chicago. Because of his sensitivity to light, he runs blindfolded with the help of a guide. He gained some attention around Chicago but wanted to do something that might have a bigger impact. Scott has been running one marathon in a different state each month since January. "We've tried to get funding for this for close to 10 years," Bennet says. "What he's doing could help thousands of people worldwide."
Scott completed his first race, Arizona's Rockn' Roll Marathon, in 5:34:41. His best time was 5:14:35 at the Go! St. Louis Marathon in April. "E.J.'s a big dreamer and most people who get big ideas have trouble following through. I know I do. But I learned very quickly that when E.J. puts his mind to something he achieves it," Woll says. "When he came up with the idea for the 12 consecutive marathons, I knew it would happen."
Like any serious runner, he's anxious as race day approaches. He runs 25–40 miles per week on a treadmill to stay ready. He tries to do some strength training when he can. Scott says he hasn't been meeting his fundraising goals, but it hasn't deterred him. "I'm raising a lot of the money on my own, auctioning DVDs on eBay and doing comedy shows in most of the cities," Scott says. "The donations have been less than I'd hoped." Nevertheless, his diligence hasn't faded. His site, ejscott.com, acts as a blog for news and another forum to generate donations.
At 36, Scott estimates he'll be fully blind by 50. There are years of research and testing still needed, and Scott knows it might not arrive in time to help him. He's racing to pave the way for others suffering from choroideremia to be able to receive the treatment he hasn't.
Scott will run his final race this year in Las Vegas on Dec. 2, 2012. He's still short on his fundraising goals but hopes to achieve them in spite of the odds against him—this relentless attitude, especially after meeting him, isn't surprising at all.
Read this entire article at: Men Fitness.com
Please also consider giving to EJ's charity, The Choroideremia Foundation by donating using the button below: