20162012
2016 – 7 Marathons on 7 Continents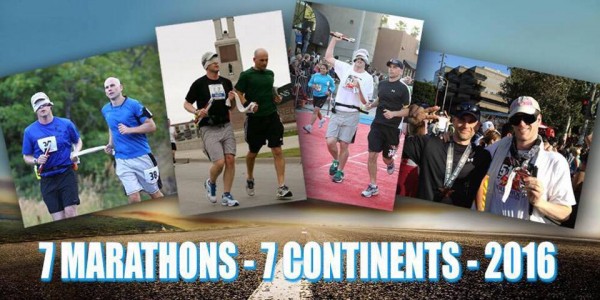 NEWS FLASH! EJ Scott has decided to take on a new challenge to raise funds for The Choroideremia Research Foundation (CRF) and other favorite charities. He plans to run a marathon on every continent in the world in 2016.
Read below what EJ Says about his new fundraising efforts:
I am losing my eye sight to a genetic degenerative eye disease called Choroideremia (CHM). It attacks peripherally and erodes the sight inward until a tunnel vision and then total blindness. Im legally blind now and in that tunnel vision area.
My grandfather was blind from it, my brother has it, my two little nephews have it, my mother, aunt and sister are all carriers of it. Some side effects are light sensitivity (UV rays will also speed up the progression), night blindness, affected depth perception.
I'm 39 years old now. In 2012 I had recently lost about 70 lbs and I decided to start running marathons. I ran 12 marathons in 2012 in 12 states BLINDFOLDED. I was able to raise over $150,000 for  It was the hardest year of my life but also the most rewarding. I was able to get a short film called RUNNING BLIND made about that year that was accepted into several film festivals and will hopefully be available for public view soon.
On November 6th, 2016 I'll turn 40 years old. In that year, before I turn 41, I want to run a marathon on every continent. Yes, including Antarctica. I will run all of them for The CRF and The Foundation for Fighting Blindness (FFB), and I will share each continent with another charity that means a lot to me.
My overall, goal will be to raise $500,000 alltogether for the charities.
The money raised here will go toward the cost of getting me to all the marathons (the cost of Antarctica alone will be over $10,000) and possibly equipment, depending on how much I'm able to raise. I'd also like to make another documentary or web series about my year. Any help is a big help. We have a lot to sell and a lot to raise so keep checking back. 
Below are the marathons EJ will be running in 2016:
Antarctica – end of January
Tokyo, Japan – end of February
London, England – end of April
South Africa – end of June
Sydney, Austarlia – September 18, 2016
Equador – October 2, 2016
Toronto, Canada – October 16, 2016
EJ is running for the following charities:
The Michael J Fox Foundation for Parkinson's research
ALS Association
Foundation for Fighting Blindness
Seth Rogen's Hilarity for Charity benefiting the Alzheimer's Association
Jamie Oliver's Food Revolution
F&%# CANCER
For the Health of It in Western Mass – benefits those suffering from mental illness
Tourette Syndrome Association
North Shore Animal League
RettSyndrome.org
Autism Society of America
Crohn's and Colitis Association of America
The Choroideremia Research Foundation
If any of these charities mean anything to you EJ hopes you'll consider donating to one or more of them via his Crowdrise page. He is trying to raise $500,000 in 2016 for all of these charities.
Below is a video of EJ talking about his announcement:
PLEASE HELP EJ ACCOMPLISH THIS AMAZING GOAL FOR 2016!
There are several ways you can help EJ achieve this goal:
Donate to the cost for the marathons and all that goes along with it
via PayPal at this email address ejscott1106@gmail.com 
or donate on Crowdrise HERE.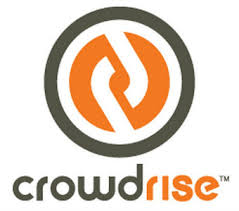 You can also bid on his auctions on my eBay and enter the raffles he's started. A big help is telling people on social media. And please feel free to forward a link to this page and send it to all of your friends, family and contacts to can help me reach my goal. 
And, please buy my documentary "Running Blind" on iTunes about my 12 marathons in 2012 its only $2.99 to own! Also available on Amazon and Google Play. See below:
At the moment EJ could use your help to run in the London Marathon in April.  At that Marathon, EJ's run will benefit for Victa Children, (on Twitter at: @VICTAChildren).
Also, PLEASE FOLLOW @7ContinentThons on Twitter which is his account for the 2016 marathons!
How else can you hep you ask? Well, thats mighty nice of you to offer. EJ is still looking for running guides and people to help capture footage of him running at the marathons. He's hoping to make a documentary of what he's doing. He's also looking for any and all PUBLICITY!! Magazines, newspapers, talk shows, blogs, podcasts, anything. 
2012 – 12 Marathons in 12 States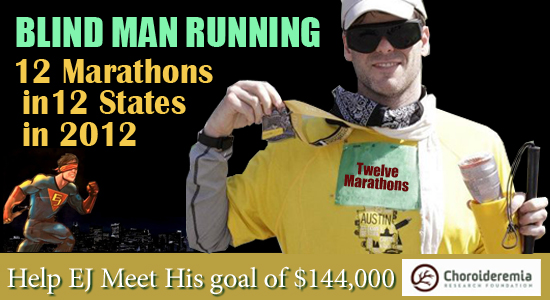 I have decided to run 12 marathons in 2012. I must be out of my mind!
HERE'S THE STORY of his 2012 marathons as told by EJ at the time:
I'm going blind from an eye disease called Choroideremia. My brother and 7 year old nephew also have this disease. Choroideremia is a hereditary degenerative eye disease that attacks the peripheral vision and slowly erodes it until total blindness. My mother, sister and aunt are carriers.

I am trying to raise at least an average of $12,000 per marathon for a total of $144,000 by the end of 2012. Oh did I mention I am running 12 marathons in 12 different states in 2012? All blindfolded! Because of my condition the sunlight will cause me to go blind faster. I have done 2 so far this year and LA is number 3!! If I raise the $12,000 please keep donating I'd like to be ahead of the game if I can.
In 2012 EJ ran the following Marathons and raised a lot of money for charity. Read the story of each marathon by clicking on the links below:
You can follow on twitter @ejscott and @12marathons2012.
EJ has public pages on Facebook as well and a blog  www.ejcurechm.blogspot.com.