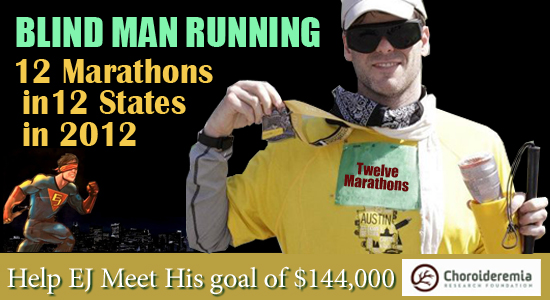 I have decided to run 12 marathons in 2012. I must be out of my mind!
HERE'S THE STORY:
I'm Going blind from an eye disease called Choroideremia. My brother and 7 year old nephew also have this disease. Choroideremia is a hereditary degenerative eye disease that attacks the peripheral vision and slowly erodes it until total blindness. My mother, sister and aunt are carriers.
I am trying to raise at least an average of $12,000 per marathon for a total of $144,000 by the end of 2012. Oh did I mention I am running 12 marathons in 12 different states in 2012? All blindfolded! Because of my condition the sunlight will cause me to go blind faster. I have done 2 so far this year and LA is number 3!! If I raise the $12,000 please keep donating I'd like to be ahead of the game if I can.
In 2012 I will run the following Marathons.
You can read the story about each marathon by clicking on the name of each:
You can follow on twitter @ejscott and @12marathons2012.
I have public pages on Facebook as well and a blog www.ejcurechm.blogspot.com.
Please help spread the word. I'm looking for sponsorship and as much press as I can get. Thank you so much for reading this and visiting my page. Much love — EJ Scott.