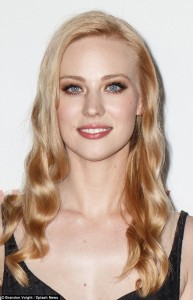 Deborah Ann Woll, EJ Scott's girlfriend was in Australia this week for the launch of her new Netflix series, Daredevil, which premieres on April 10.  at the launch party of Netflix in Australia and New Zealand on Tuesday, she, told Daily Mail Australia: 'It hurts knowing it will only get worse.'  She talked with them about living the sadness that her handsome boyfriend, EJ will lose his sight entirely as he battles the degenerative eye condition "Choroideremia." 
The pair met seven years ago before the flame-haired beauty found fame as sexy vampire Jessica Hamby on the HBO series and during that time choroideremia, or CHM, a rare genetic disease causing blindness, has almost obliterated his vision.
It was a very scary thing and he was so open and positive about it and spoke about his fund-raising and I thought "I could be dating a hero" and how lucky I was. I think I fell in love then.
'He's an incredibly kind man and very cute too.'
Scott was diagnosed with the disease when he was 27 and will soon lose his sight completely.
The disease begins with loss of peripheral vision, so that as it progresses the sufferer is limited to tunnel vision.
There is no cure for CHM and all sufferers eventually go blind.
Shortly before he found out about his condition, Scott had settled on a career as a performer, taking classes in stand-up and eventually moving to Los Angeles, where he met Woll.
He then moved to Chicago to pursue his theatre work, but their relationship endured the distance for three years.
Revealing the current condition of his eyesight, Ruby Sparks star Deborah offered: 'It's still progressing, he's legally blind."
'The way they mark is that a human being can see 180 degrees so if you're less than 20 you're legally blind and he has less than 20 in each eye.
'Sure, it hurts and it will only get worse. We need to be positive as it will get worse but who he is is not defined by his sight.'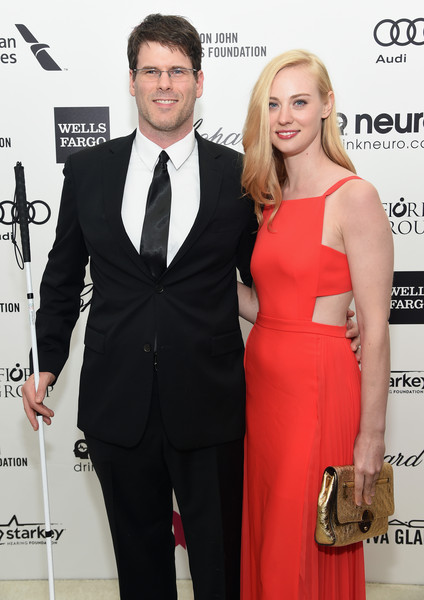 Please consider giving to EJ's charity, The Choroideremia Foundation by donating using the button below: