My girlfriend, Deborah Ann Woll, played vampire Jessica Hamby for seven seasons on HBO's TRUE BLOOD and now she plays Karen Page for Marvel's Daredevil on Netflix. We're raffling off a NYCC 2014 Marvel's Daredevil Poster that includes 15 signatures. 
Watch a video below all about it:
NYCC 2014 MARVEL'S DAREDEVIL POSTER! 15 SIGNATURES! This is a signed 13″ x 20″ poster. Will be mailed in a poster tube.
THE POSTER IS SIGNED BY…
DEBORAH ANN WOLL – Karen Page
CHARLIE COX – Matt Murdock/ Daredevil
VINCENT D'ONOFRIO – Wilson Fisk/ Kingpin
TOBY LEONARD MOORE – Wesley
JOE QUESADA – artist/ producer
STEVEN DeKNIGHT – show runner season 1/ director/ writer
JEPH LOEB – producer/ head of Marvel television
ELDEN HENSON – Foggy
DAVID MACK – past Daredevil artist/writer
DREW GODDARD – creator of Marvel's Daredevil for Netflix, writer, producer
CHRISTOS GAGE – staff writer season 1
RUTH FLETCHER GAGE -staff writer season 1
MARCO RAMIREZ – show runner season 2/ writer/ producer
PETER SHINKODA – Nobu (pending, will sign soon)
TOMMY WALKER – Francis (pending, will sign soon)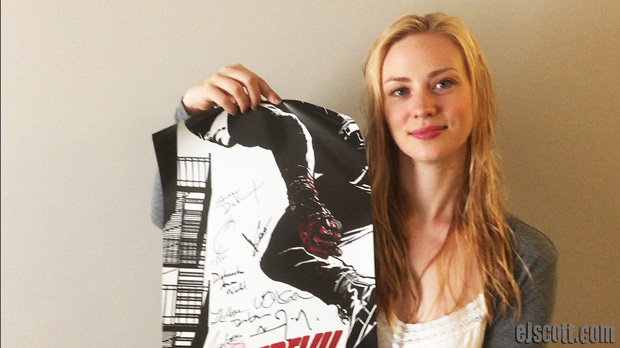 See closeups of the poster and each signature by clicking on the images below:
Its easy to enter and the money is going to a great cause.
HERE'S HOW:
The more you give the more chances you will have to win this awesome poster that Deborah will personalize for the winner with any name they want.
$10 = 1 entry
$50 = 6 entries
$100 = 13 entries
The winner will be chosen at random by DEBORAH on video and posted on Facebook and Twitter. We will write all the entries names on tickets and put them in a hat or a bowl, mix them up and choose at random. WORLDWIDE SHIPPING!! We will ship for FREE.
Please enter often we will choose a winner sometime in early September. Please tell your friends and family on social media. Thank you so much for your help!!
I am going blind from an eye disease called Choroideremia. It runs in my family and is affecting some of them. In 2012 I ran 12 marathons in 12 states in 12 months blindfolded and was able to raise over $150,000 for the Choroideremia Research Foundation.
Next year, in 2016, I am running a marathon blindfolded on each continent and hoping to raise $500,000 for multiple charities including Choroideremia, ALS, Alzheimer's, Parkinson's, Autism, Rett Syndrome, North Shore Animal League, Jamie Oliver's Food Revolution, mental health, Tourettes. The money raised will go toward the cost of the marathons.
Please consider giving to The Choroideremia Foundation by clicking on the button below: