After the devastating hurricane Maria that occurred in Puerto Rico last September, EJ Scott wanted to help. First, he asks that you support the Hispanic Federation. He then tells of his adoption of two pups and how he helped those suffering in Puerto Rico from last September's devastating hurricane.
Since they didn't know the official date of the puppies birth, EJ and Deborah Ann Woll decided that Earth Day would be a good day as they were born in early April 2017.
Happy first birthday to my adopted twins from Puerto Rico – Ripley and Mcfly!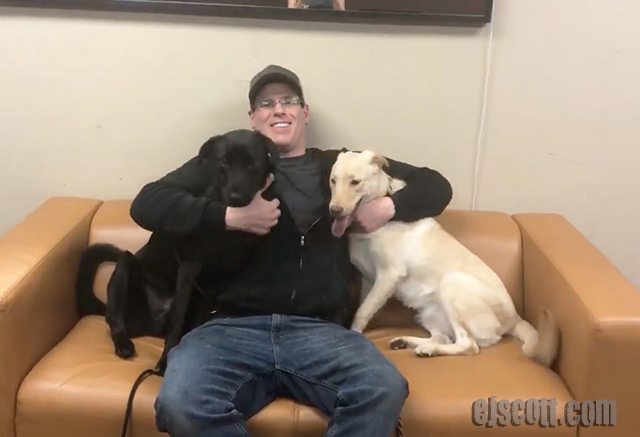 EJ posted about the dogs first birthday on both Twitter and Facebook.  See those posts below:
FACEBOOK POST:
When Hurricane Maria hit Puerto Rico in September I felt terrible for the people. I felt really helpless like there wasn't anything I could do besides donating money (which is highly important. I should know I'm constantly asking people to donate to things.) Then I saw on Instagram a re-post from Betty Luck of an animal rescue place in Vegas called Mayte Rescue.
They were in contact with a Puerto Rican rescue place and were posting pics of now homeless animals. I saw a pic of two beautiful lab mix puppies apparently were being poorly cared for by a homeless man. They had a rope around their necks for collars and leashes. I immediately felt so badly for them so I talked to my girlfriend about adopting them. She was in New York at the time (still is actually) working on Daredevil, but she gave me the green light to investigate further.
They were available and could be mine if I was approved. I had to send pictures and fill out paperwork. The female was badly malnourished and needed special attention. The boy was better and could stay with a temporary foster family.
After about 3 or 4 weeks they were put on a plane and shipped to Los Angeles (with a change over in Dallas). It was nerve-wracking. The only thing they asked of me was to pay for were their traveling crates and to make a donation if I wanted, which we did.
Their paperwork estimated they were born in April last year. Deborah and I decided to choose Earth Day April 22nd as their official birthday. It seemed appropriate.
It's been a big adjustment for everybody, but I'm grateful for my poop eating puppies. (We are working on the poop eating). They are really fantastically sweet, but also trouble at times as they are each other's best friend and worst enemy. I love them with all my heart.
I wish that hurricane never hit Puerto Rico and that the lives lost through a negligent administration hadn't happened. So, in honor of our pups and the lives lost and that are still being lost in Puerto Rico, I hope you will please consider donating to www.hispanicfederation.org and maybe even adopt a dog or cat if you can.
Pass along and thank you.
EJ Scott
TWITTER POST
Happy first birthday to my adopted twins from Puerto Rico – Ripley and Mcfly! I love you! Please consider a donation for the people who are still suffering and dying in Puerto Rico to http://www.hispanicfederation.org. We chose Earth Day as their birthday. It seemed appropriate. Thanks! 
YOU CAN HELP! 
PLEASE CLICK ON THE BUTTON BELOW TO DONATE AND END THE SUFFERING IN PUERTO RICO!