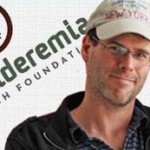 Tomorrow is EJ Scott's 38th birthday!! EJ has decided to celebrate in two ways. On Monday at iO WEST  he will screen his documentary film about his marathons in 2012, Running Blind The Movie.  Then, he has several auctions up on EBay which he hopes will bring more donations flowing in for his charity.
If you can't make it to iOWest, but are willing and able to make a contribution to the Choroideremia Research Foundation and/or bid on some of his items on ebay (money goes to the CRF), it would improve his birthday greatly!!
Give to the Choroideremia Research Foundation by clicking on the button below:
Or place a bid on something at the Garage Sale on Ebay here: ebay.com
So far 106 auctions are up. 86 have NO BIDS. Many end in 3 DAYS!! Comic book bundles with starting bids at only $1. Money goes to the Choroideremia Research Foundation. Win multiple auctions and request combined hipping to save $$$. Thanks!! Tell your friends and family!! 
Titles like..
GHOST RIDER, HULK, QUEEN and COUNTRY, POWERS, WALKING DEAD, WITCHBLADE, MARVEL ZOMBIES, SIGNED DEADPOOL, X-FORCE, TERMINATOR, ROBOCOP, TOTAL RECALL, LOCKE and KEY, X-MEN, SPIDER-MAN, SPAWN, YOUNGBLOOD, SUPERMAN, SUPERBOY, WAR STORY, the TENTH (SIGNED w/COA), PITT, WILDCATS, NEW TEEN TITANS, LEGION, GI JOE, SQUADRON SUPREME, TRANSFORMERS, WONDER WOMAN, HOUSE of M, WOLVERINE, the ULTIMATES and many more!! Some rare comics! Some Variants! Some Signed Comics! Check it out!!