EJ Scott is to run his first of 7 marathons on 7 continents in 2016 this week.  He has travelled to Antarctica and is ready to go!
On January 22 he posted on his Facebook page and on Twitter the following:
Arrived in Punta Arenas Chile! Safe and sound. Will be running Antarctica in a few days! https://t.co/SvCG2jnpU7 RT
Then, yesterday, JANUARY 24, he posted the following information on Instagram and Facebook about his run this week: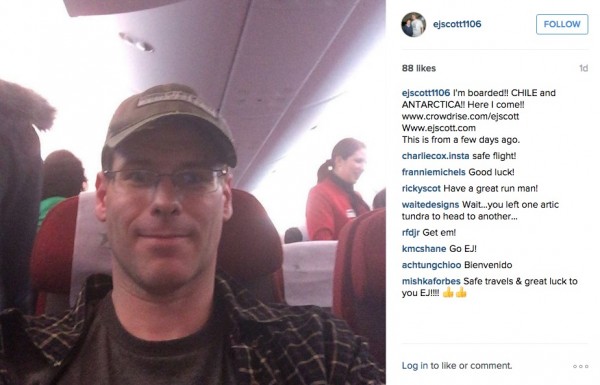 So it looks like I'll be running Antarctica probably Tuesday. Everything's dependent on weather. There's a chance that we fly out tomorrow afternoon or evening and run at 4 am Tuesday. Or fly out Tuesday run when we land and camp over night. There's lots of possibilities for lots of things. The course is small and slightly treacherous so I'll have to be extra careful cuz I'll be blindfolded. And it'll be freezing temperatures which I'm not used to. I'm pretty nervous about it. I'm still raising money for some amazing charities that affect everyone. Please take a look and give what you can. It's tax deductible. Thanks so much.
TO GIVE TO HELP EJ RUN AND RAISE MONEY FOR SOME AMAZING CHARITIES, GO HERE!!