Below is the next "Scratch the Surface" EJ Podcast. EJ has as his guest today Karolina Wydra who played Violet in the last two seasons of True Blood.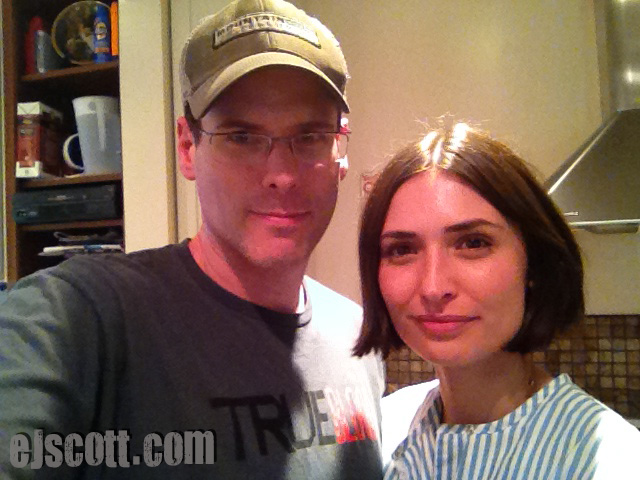 Below are two photos Karolina shared with EJ.  The photo on the right we censored a bit…..use your imagination to figure it out.
Ej and Karolina talk about:
her life in Poland before she moved to the Ocean County in California,
her parents divorce,
her fathers new marriage to a woman much younger,
her mothers accident that sent her back to Poland,
the transition from moving to a new country without knowing the language,
being a loner,
her brief encounters with Philip Seymour Hoffman and Robin Williams,
meeting her current boyfriend and being in a long distance relationship,
almost retiring from acting before her True Blood audition,
being a sexual person, (see photos)
her attraction to Zach Galifianakis,
shooting the sci-fi thriller Europa Report,
being friends with director Michel Gondry,
doing a commercial with George Clooney,
the first day of work on True Blood,
they talk in depth about her character Violet,
working with Ryan Kwanten,
sex scenes,
being on Justified,
working with Hugh Laurie on House,
working with Ryan Gosling in Crazy, Stupid, Love,
meeting Jack Black,
getting in a car accident that left one of her eyes damaged
and so much more!!!
LISTEN, and ENJOY!!!
Watch Karolina with George Clooney in this Nespresso Commercial:
Please share with your friends on social media or any other way.
Also, be sure to listen to EJ's other podcasts because those are pretty amazing also.
Please consider giving to EJ's charity, The Choroideremia Foundation by donating using the button below: