Below is the next "Scratch the Surface" EJ Podcast. EJ has as his guests today True Blood's Riley Smith (Keith) and Craig Chester (writer).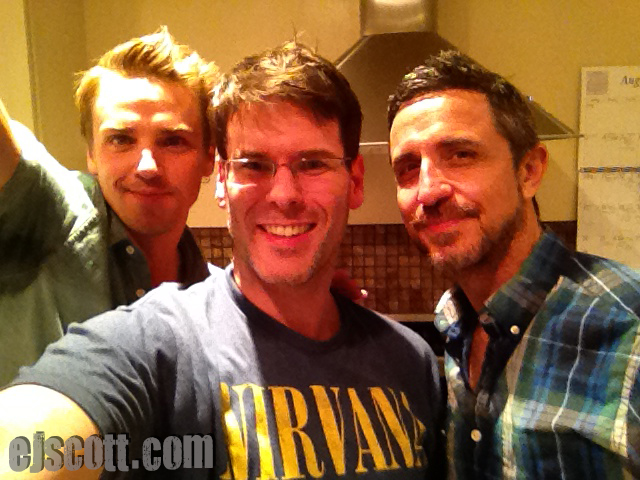 Riley Smith and Craig Chester are both newbies on the final season of True Blood. Craig wrote two of the episodes (eps 5 and 7) and Riley appears in many of the episodes as Keith a vampire who gets involved with a main character of the show.
We talk about how they each got the job on True Blood, and each of them discuss:
Craig talks about:
what its like on the set,
what its like in the writer's room,
we talk about Craig's facial deformity as a teenager and the year of surgeries that he had to fix it, then
becoming an actor, writer, director,
working with Daniel Radcliffe,
writing on Big Gay Sketch Show with current SNL cast member Kate McKinnon,
being a hunted by Montgomery Clift?,
being openly gay,
being raised by a rock 'n roll singing dad and a born again Christian mom,
Riley talks about
being roommates with Ashton Kutcher in NYC in the early stages of their career,
being discovered in a mall,
his love of horses,
working with the Olson twins,
working on 24,
working with Emma Stone and Nathan Fillion on a short lived show called Drive,
working on the movie Radio with Cuba Gooding Jr and Ed Harris and
how Ed Harris is really intimidating,
working with Scarlet Johannson on Eight Legged Freaks,
working on Freaks and Geeks,
his sex scene with Carrie Preston and so much more!!!
LISTEN, and ENJOY!!!
Please share with your friends on social media or any other way.
Also, be sure to listen to EJ's other podcasts because those are pretty amazing also.
Please consider giving to EJ's charity, The Choroideremia Foundation by donating using the button below: