Below is the next "Scratch the Surface" EJ Podcast. EJ has as his guest today Daredevil's Charlie Cox.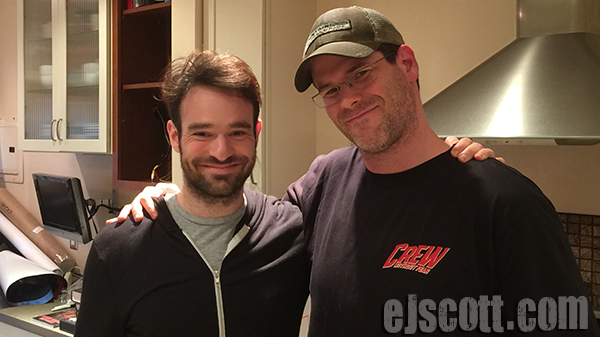 Charlie Cox can be seen this April 10, 2015 as the title character of Marvel's "Daredevil" for Netflix.
Daredevil is a 13 episode show that starts a 60 episode arc crossing over some of Marvel's more street level heroes. Daredevil is a blind superhero with special abilities. Charlie was also on HBO's "Boardwalk Empire" for two seasons, in the Oscar nominated "The Theory of Everything," he has worked with Al Pacino, Robert DeNiro, Michelle Pfeiffer, Clare Danes, Ricky Gervais, Steve Buscemi, and Kelly MacDonald.
I bring in my girlfriend, Deborah Ann Woll, who plays Karen Page in Daredevil and they both talk about working on the show and with each other.
Ej and Charlie talk about:
his start in acting at boarding school,
his terrible singing,
whether or not he is from distinguished lineage,
his audition process for getting on Daredevil.
why he is hesitant to being on social media,
how he's handing the spotlight of leading a show
and so much more!!
LISTEN, SHARE and ENJOY!!!
Also, be sure to listen to EJ's other podcasts because those are pretty amazing too.
Please consider giving to EJ's charity, The Choroideremia Foundation by donating using the button below: