Below is the next "Scratch the Surface" EJ Podcast. EJ has as his guests today the power couple, True Blood's Tara Buck and musician Chris Pierce.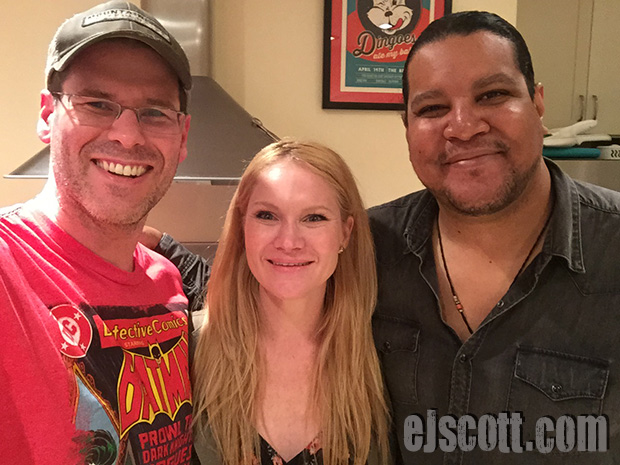 Tara Buck and Chris Pierce are a talented married couple covering acting and music. Tara Buck has been an actress going back to the '90's working on shows like "Party of Five" and "X-Files" and is best known as playing Ginger on HBO's True Blood for all seven seasons. Tara has more recently done guest spots on Justified, Backstrom, Bones, Longmire and more!
Chris Pierce is well known for his musical expertise and his bands Reverend Tall Tree and his new duo, "War and Pierce."  He has five albums available to buy on iTunes under his name and his new group Reverend Tall Tree.
Ej Tara and Chris talk about:
Chris talks about being an opening act for BB King, Al Green, Aaron Neville, Blues Traveler, Colbie Callait,
growing up with interracial parents and the time a burning cross was on his lawn.
The two talk about their wine label,
how they met,
their wedding,
Tara's discusses her next job on Pee-Wee Hermans Big Holiday movie on Netflix,
Chris talks about his hearing loss.
and, Chris sings three songs for the show LIVE!!
LISTEN, and ENJOY!!!
Please share with your friends on social media or any other way.
Also, be sure to listen to EJ's other podcasts because those are pretty amazing also.
Please consider giving to EJ's charity, The Choroideremia Foundation by donating using the button below: