Below is the next "Scratch the Surface" EJ Podcast. EJ has as his guest today Francis Manapul who lives in Toronto, CA.  He is an artist/writer for comic books who lives in Canada. Check out his website here.
Photos of of Francis Manapul signing and posing with EJ.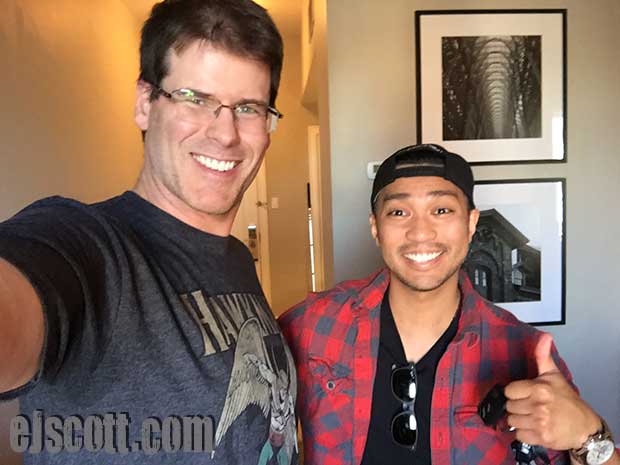 EJ says:
Francis Manapul is a jack of several trades: drawing, inking, painting, coloring, writing, etc. I visited Toronto, Canada for a few days where Francis lives and took a shot that he may want to be a guest on my podcast. Francis took some time out of his busy writing and drawing schedule for the new TRINITY ReBirth book that includes Batman, Superman and Wonder Woman to talk with me. And boy what a talk it was. The timing of my visit to Toronto was odd to say the least. Francis had some deep loss right before our talk. Losing his friend and his biological father in the same day due to different circumstances. Francis had only seen his father once in 30 years when he visited the Philippines, Francis' place of birth.

We talk about how his relationship with his father now affects his storyline and work in Trinity, we talk about his time on The Flash, Geoff Johns, losing a loved one, guilt, regret, family responsibility, and so much more.  It gets pretty intense at times but there are also some lighter moments. I hope you'll enjoy our conversation. I know I did.
LISTEN, and ENJOY!!!
Please share with your friends on social media or any other way.
Also, be sure to listen to EJ's other podcasts because those are pretty amazing also.
Please help EJ raise money for Autism, Cancer, Parkinson's, Alzheimer's, Rett Syndrome, Crohns Disease, Tourette's, mental illness, animals, children's health, blindness at 

www.crowdrise.com/7on7 

or click on the image below:
PLEASE CLICK ON THE IMAGE TO DONATE
AS MUCH AS YOU CAN!!!