Below is the next "Scratch the Surface" EJ Podcast. EJ has as his guest today Improvisor and actor, Scott Adsit.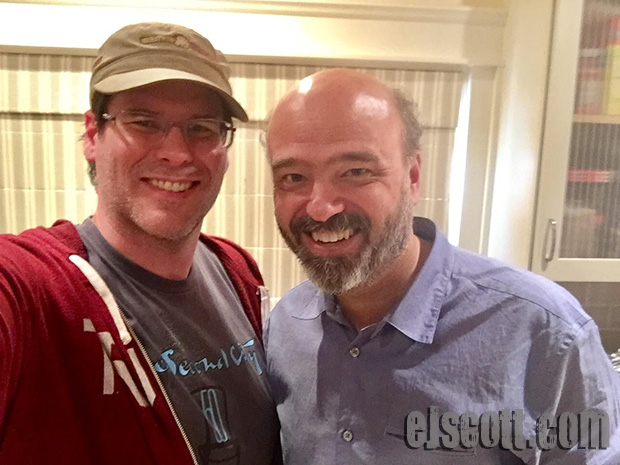 Scott Adsit has almost 100 acting credits to his name on IMDB, but I know him best as one of my favorite improvisors. He was kind enough to spend some time with me while he was visiting LA.
We talked about:
comedy,
improv,
Chicago,
being a nerd,
being written and drawn into the Marvel comics universe,
Trump,
he loss of his father,
performing at The Second City MainStage in Chicago,
auditioning for Saturday Night Live and not getting hired,
getting a call from Tina Fey about a job on 30 Rock,
dating,
meeting his girlfriend,
starting Moral Orel with Dino Stamatopoulos,
voicing Baymax in Disney's Big Hero 6,
humping Florence Henderson,
working with Carrie Fisher,
getting a "free" education at Columbia in Chicago thanks to Sheldon Patinkin,
working with Steven Spielberg, Tom Hanks, Matt Damon, Steven Soderbergh, Will Ferrell, Christopher Guest, Billy Bob Thornton, Garry Handling, Warren Beatty, Bill Murray, Melissa McCarthy, and Russell Brand
and so much more!!!
PLEASE LISTEN, PLEASE SHARE and ENJOY!!!
Please share with your friends on social media or any other way.
Also, be sure to listen to EJ's other podcasts because those are pretty amazing also.
Please help EJ raise money for Autism, Cancer, Parkinson's, Alzheimer's, Rett Syndrome, Crohns Disease, Tourette's, mental illness, animals, children's health, blindness at 

www.crowdrise.com/7on7 

or click on the image below:
PLEASE CLICK ON THE IMAGE TO DONATE
AS MUCH AS YOU CAN!!!