Below is the next "Scratch the Surface" EJ Podcast. EJ has as his guest today Composer, Tyler Bates.
Tyler has scored more than sixty feature films, hundreds of episodes of television, major studio video games and artist records. He has more than twenty commercially released film soundtrack albums, several of which debuted number one at the box-office. His recent work includes Marvel's 2014 smash hit, "Guardians of the Galaxy," co-writing and producing iconic shock-rocker Marilyn Manson's critically acclaimed album, "THE PALE EMPEROR." Bates co-wrote the score for Keanu Reeves 2014 hit, "John Wick," directed by David Letch and Chad Stihelski, which features the song "Killing Strangers," written by Bates and Manson. source: IMDb.com.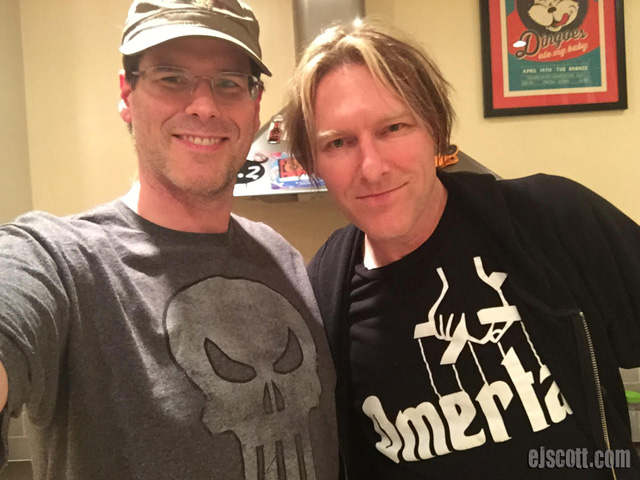 Tyler took a couple of hours out of his busy schedule to talk with me about:
growing up in a haunted house,
losing his mother in a car accident,
music, composing,
how he joined Marilyn Manson,
working with Zack Snyder, James Gunn, Emilio Estevez, and Chad Stahelski,
meeting his wife,
having kids,
working on the upcoming Marvel's The Punisher for Netflix,
the pressures of his job
and much more!!!
PLEASE LISTEN, PLEASE SHARE and ENJOY!!!
Please share with your friends on social media or any other way.
Also, be sure to listen to EJ's other podcasts because those are pretty amazing also.
Please help EJ raise money for Autism, Cancer, Parkinson's, Alzheimer's, Rett Syndrome, Crohns Disease, Tourette's, mental illness, animals, children's health, blindness at 

www.crowdrise.com/7on7 

or click on the image below:
PLEASE CLICK ON THE IMAGE TO DONATE
AS MUCH AS YOU CAN!!!