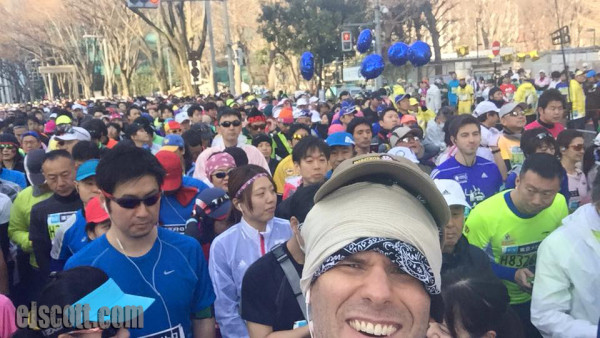 On February 27, 2016, EJ Scott ran his second of seven marathons in 2016 in Tokyo, Japan. 
After he finished, he wrote about the experience:
Well my body hates me but we got it done. Turns out my bad knee was the least painful thing on my body after about 7 miles. Now everything hurts. Thanks to my guides Whitney Powell and Toku! Honorable mention to Jaquisha C. Kearson who went above and beyond for me as well. And thanks to the people that helped get my guides Andrea Swift Janelle McIntyre Noriko Nyfa and Steve Hibbs. Thank you all.

I'm not doing this just for my health I'm doing it for lots of people's health. so pretty please donate to my Crowdrise Page. Lots of more-than-worthy causes to choose from. Today I'm pushing autism and Choroideremia but you can donate to any of the causes. Thank you!!
[icon style="icon-camera" size="small" borders="no"]
Below are some photos from the marathon:
EJ's next marathon will be in London, England on