"Whose Line Is It Anyway?" Ryan Stiles improvised at a Fundraiser organized by EJ Scott.
Stiles wasn't there for the laughs — he was there to perform with E.J. Scott, who is an improv enthusiast raising money for the Choroideremia Research Foundation (CRF), a nonprofit organization. Choroideremia, which causes degeneration in the eyes' choroid and retina, is a rare disorder that eventually leads to blindness. It's hereditary — but Scott didn't know that when his grandfather was first diagnosed with it.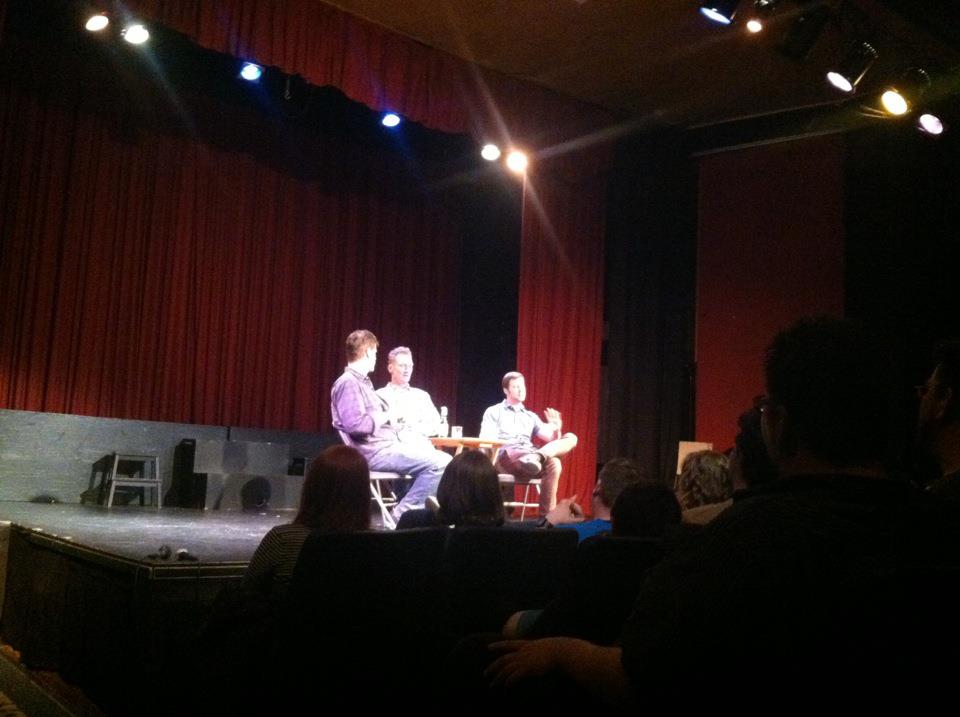 In 2003, Scott's grandfather went blind while in his 40s.
What my family never really talked about was that what he had was genetic," Scott said.
That same year, the rest of the Scott family got tested. Several of them had the same degenerative eye disorder, and Scott was one of them. For Scott, what followed was an overall change in lifestyle; he used improv as a fundraising event for the cause.
Along with performing improv for the CRF, Scott decided to run a succession of 12 marathons, in 12 cities around the country, in 12 months — blindfolded. Scott knew someone with choroideremia who had done it, but with the disorder making his eyes sensitive to light, it at first seemed like an impossible task.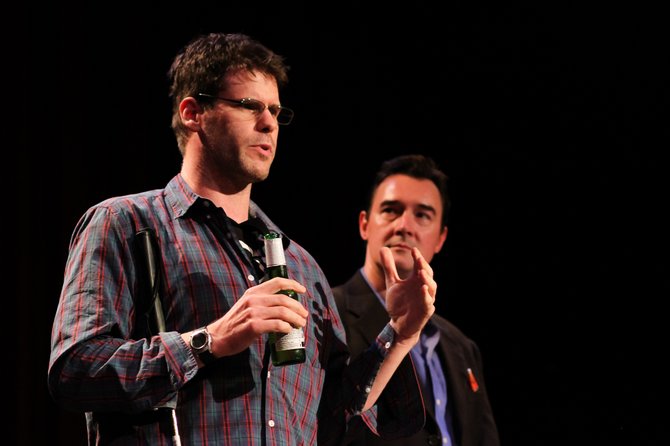 EJ Scott explains his mission during intermission at Jet City Improv. In 2003 Scott was diagnosed with Choroideremia, a genetic disease that causes progressive vision loss
It just never occurred to me to do one, because I thought, 'I couldn't even stay outdoors for that long. Who would do that? That's crazy,'" he said.
He went from "drinking and sitting around" to training five to six days a week, eventually losing 70 pounds.
Exactly what you're not supposed to do is what I was doing," Scott said.
#The Rock 'n' Roll Marathon in Seattle was Scott's sixth: It started at 7 a.m. this past Saturday and ended ­— Scott still had three miles left — in a downpour.
But his real motivation was the CRF's sponsorship, and in return, he's raised about $14,000 for the organization so far. He organized two improv performances in Seattle: One this past Thursday at Unexpected Productions, and the Sunday performance with Jet City Improv, which had nearly 100 audience members.
Wing-It Productions hosted performances by improv groups Dance Force Five and Jet City Improv, which were then followed by a performance from the combination of Scott, Stiles, and Doug Willott, a Jet City Improv member.
Though Jet City Improv members usually get a compensation of $10 for each performance, all money raised for this event — an estimation of $900-$1,000 — was donated to the CRF. All performers and workers donated their time to the cause.
That's what I love about it, the ability for us to use the space and the energy and the performers to help out causes," said Andrew McMasters, artistic director of Wing-It Productions and the emcee for Sunday's performances.
Kristina Corbitt, a Jet City Improv member who performed before Scott, said improv has a personal element in the way that the performances interact with the audience; that element can be an important influence in fundraisers. Seeing those performers invest their time into the cause, she said, can be crucial to making an audience feel invested in the cause as well.
Improv can be tailored to any event," Corbitt said. "There's both the entertainment factor of being able to have fun in light of … everything happening, but also the idea of connecting with an audience on a personal level."
source: dailyuw.com