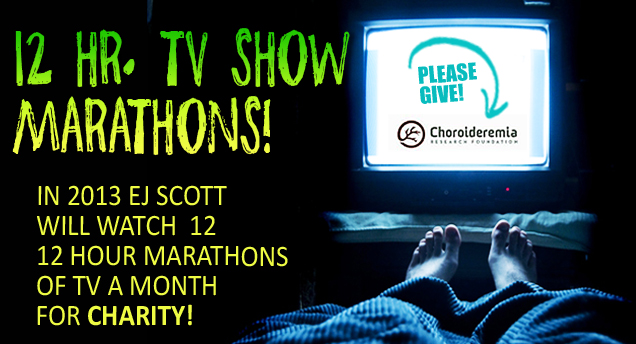 EJ Scott says:
I'm doing my 4th 12 hour TV marathon FOR CHARITY today with the show, JUSTIFIED!
My first three marathons went very well with "Homeland" and then "Game of Thrones and Mad Men." 
Last year I ran 12 Marathons in 12 States in 12 Months.  So now I'm doing the total opposite of running. I'm sitting. for long periods of time watching great television. The idea is watching shows I never got into but wanted to get into. Its thinking outside the box fundraising. You don't have to torture yourself. You can do something fun and get people involved. So please join me on Twitter @ejscott (i'll be tweeting now and then) and give to my cause. We are still far from a cure and need funds for research.
I've now surpassed my 10 year anniversary of being diagnosed with CHOROIDEREMIA. So please donate, by clicking on the button below and help me get this thing cured before another 10 years goes by.
Thank you.
 Donate using the button below: