EJ has finished the 6th Marathon of his 7 on 7 marathons to complete for the year 2016. This time he ran on the South American continent, at the Guayaquil Half Marathon in Ecuador.
After running the race, EJ posted the following:
Finished my Guayaquil Half Marathon! In about 2 1/2 hours! Faster than I thought I would be. I had two great guides thanks to Diego Maruri! I had 3 hours of sleep. Two bum knees which didn't bug me too bad. I haven't run since Sydney two weeks ago. I have plantar fasciitis which did bug me some. Plus my back was hurting me last night which worried me. But I got to run with NO BLINDFOLD, which is very rare. But half the race was before sunrise and the rest was very cloudy. Anyway I did it, and I have one more to go!

I'm running for charity please look at the list of charities I'm supporting. They need your help.thanks.
Some photo of EJ and his guides below: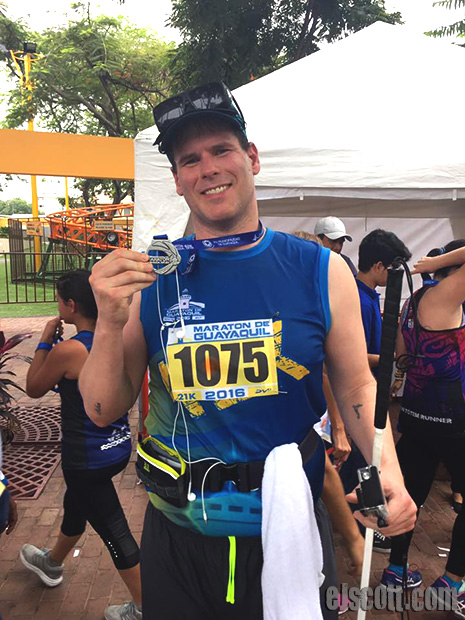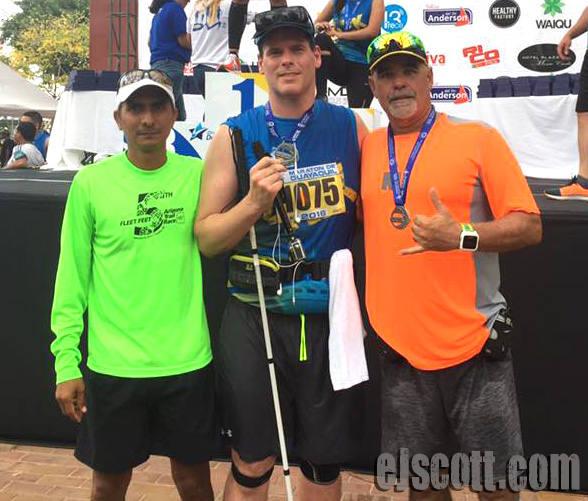 About the Marathon
The Guayaquil Marathon, or Maratón de Guayaquil, is an annual marathon road race which takes place every year in the city of Guayaquil, in the Guayas Province of Ecuador, on the first Sunday of October.
The race, which was first held in 2005, draws about 1200 participants mostly from Ecuador, runners from Colombia, Peru, Venezuela, The United States, Kenya and other countries run every year.
The race starts 5:00 AM at 5 de Junio Bridge, in front of the Plaza Rodolfo Baquerizo, located at the Malecon del Salado, being the start and also the finish point for 10K runners, Half Marathon runners and Full Marathon runners. The Guayaquil Marathon is hosted by the Guayaquil Municipality and is certified by the Association of International Marathons and Distance Races (AIMS).
So far, EJ has run the following marathons this year:
2016 completed Marathons
Marathons coming up
EJ has one final marathon to do and it's coming up in  Toronto, Canada later this month on October 16, 2016.
HELP EJ  GET TO HIS FUND RAISING GOAL
Please help EJ raise money for Autism, Cancer, Parkinson's, Alzheimer's, Rett Syndrome, Crohns Disease, Tourette's, mental illness, animals, children's health, blindness at 

www.crowdrise.com/7on7 

or click on the image below:
PLEASE CLICK ON THE IMAGE TO DONATE
AS MUCH AS YOU CAN!!!