EJ Scott finished the Sydney, Australia Blackmores' Half Marathon which took place on September 17, 2016 in the in Sydney.
About the Marathon

Blackmores Half Marathon course: flatter, faster and even more beautiful. Go on, rise to the challenge and take on the 21.0975km course and enjoy Sydney's most spectacular and historic landmarks including the Sydney Harbour Bridge and the Sydney Opera House.  The run started at Bradfield Park, Milson's Point travel over the main deck of the Sydney Harbour Bridge and finish at the Sydney Opera House at 6:00am.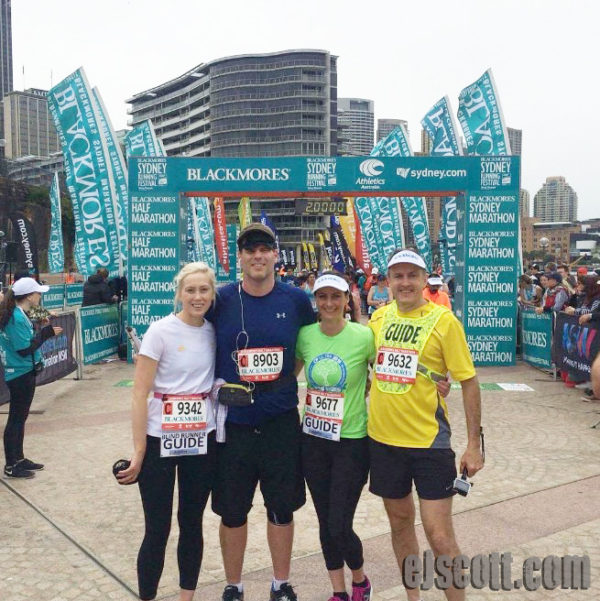 EJ says:
I did it!! I had 3 fantastic guides! And I hit my goal of being done by 9am. I just woke up from a nap and I can barely walk. Yay! I've run on 5 continents this year. 2 to go. I run Ecuador in 2 weeks then Toronto in 4 weeks. Then I'm done! Please to donate to any of the charities I'm raising for www.crowdrise.com/7on7.
So far, EJ has run the following marathons this year:
2016 completed Marathons
Marathons coming up
His scheduled South America Marathon in Brazil didn't take place in since he got a virus so he is now considering a run in Bogota, Columbia on July 31.  
Please help EJ raise money for Autism, Cancer, Parkinson's, Alzheimer's, Rett Syndrome, Crohns Disease, Tourette's, mental illness, animals, children's health, blindness at 

www.crowdrise.com/7on7 

or click on the image below:
PLEASE CLICK ON THE IMAGE TO DONATE
AS MUCH AS YOU CAN!!!