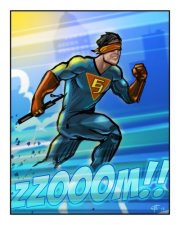 Please join EJ Scott's brother, Kevin Scott in the fun on December 2nd as they celebrate his final race in his mission to run twelve marathons in 2012 completely blindfolded to help fund a cure for Choroideremia.
Enjoy free food, live music and auctions while we cheer on E.J. and get closer to a cure for CHM.
As well, their cousin Ryan Carney and his band will debut their new album, titled "BLINDFOLDED" that will feature twelve songs inspired by each of E.J.'s twelve marathons.
When: December 2nd at 2:00 PM
Where: Whoville Bar & Grill, 339 Broadway in Bethpage, NY
Tickets: 100% of your $25 donation will support E.J.'s cause
Please RSVP on facebook.com or to kevin.f.scott@gmail.com. For more information E.J.'s journey, visit curechm.org.
Thanks, and hope to see you there!
If you can't attend, please consider giving to find a cure, to The Choroideremia Foundation by donating using the button below:
source: facebook.com