Once again we are giving away a True Blood DVD.  
This time it's a signed copy of Season 3 of HBOs hit TV Show, TRUE BLOOD (New season begins June 16th).
Deborah Ann Woll (my girlfriend) brought this to the set and got eleven signatures on it.  The proceeds will benefit The Choroideremia Research Foundation, Inc.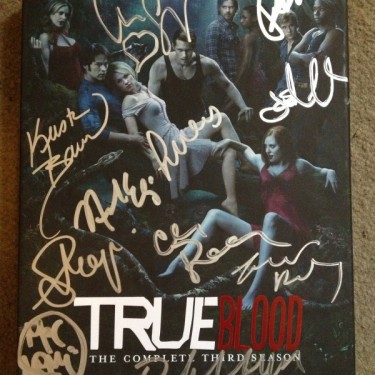 Signatures on the DVD:
Stephen Moyer (Bill Compton)
Alexander Skarsgård (Eric Northman)
Deborah Ann Woll (Jessica Hamby)
Kristin Bauer van Straten (Pam De Beaufort)
Joe Manganiello (Alcide Herveaux)
Michael McMillian (Rev. Steve Newlin)
Lauren Bowles (Holly Cleary)
Rob Kazinsky (Ben-Sookies new Love interest)
Chris Bauer (Andy Bellefleur)
Lucy Griffiths (Nora Gainesborough)
Nelson Ellis (Lafayette Reynolds)
For every $10 given at any time, will count as one entry in to a random drawing for the winner. The winner will be chosen by me and/or Deborah on video. We will write each entry onto a piece of paper or a ticket, put in a bowl or a hat or something. Mix it up and pick randomly. I will contact the winner after the drawing to receive their address. We will ship anywhere in the world. The shipping is on us.




Click on this link to enter: crowdrise.com.
The money raised is going to the Choroideremia Research Foundation. Choroideremia is a genetic and degenerative eye disease that attacks the peripheral vision and erodes it over time and will cause eventual blindness. I am legally blind now. I have about 10-15 degrees centrally of vision left. My grandfather went blind in his 40's. I am 37 right now and am looking for a cure or treatment. Not only for myself but for my brother (26) and 2 nephews (8 and 4) who also have the disease. My sister, mother and aunt are all carriers. This pattern will continue for future generations unless something is done to stop it.
Please visit the CRF website for more information.
Deborah has said she will match whatever is raised until the winner is drawn. So your $10 entry will send $20 to the foundation. (minus whatever fees Crowdrise takes).
So tell your friends and family! Please TWEET on Twitter and POST on Facebook.
You can follow me and Deborah on Twitter
@ejscott
@deborah_annwoll
@EJandDAWcharity
Find us on Facebook
facebook.com/ejscottpage
facebook.com/deborahannwoll
facebook.com/ebaygaragesale
We are also auctioning on eBay signed TRUE BLOOD items plus lots of other great things. So look out for all that stuff, too.