EJ Scott and Deborah Ann Woll are auctioning some great items. The money raised with these auctions will go toward the cost of getting EJ Scott to all the marathons (the cost of Antarctica alone will be over $10,000) and possibly equipment, depending on how much he's able to raise. EJ would also like to make another documentary or web series about the year. Any help is a big help.
EJ writes about each auction below:
TRUE BLOOD JESSICA POSTER
The first auction is of a Jessica poster which you can see in the photo below. Deborah will personalize for the winner. But she is on the other side of the country right now. I can get it in the mail a couple weeks after you win. The poster will be mailed in a poster tube. WORLDWIDE SHIPPING!!!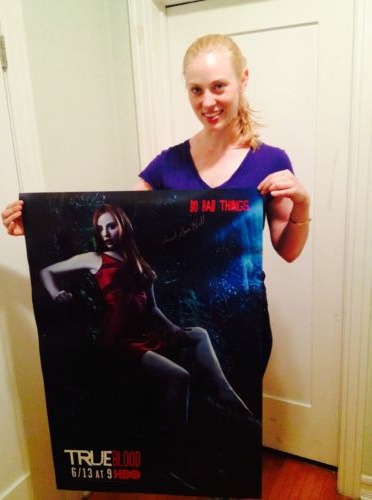 BICYCLE for sale (owned by Deborah Ann Woll)
This bike was a gift to cast members a few years ago. This was not available for the public to buy. So this is a rare item. SIGNED/ Owned  by Deborah Ann Woll (played Jessica Hamby on True Blood and Signed by AMELIA ROSE BLAIRE (played Willa Burrell on True Blood). Please note we cannot mail this. So please live in or near Los Angeles, or be willing to drive out to pick it up or be close enough for us to deliver to you. This bike has been ridden by Deborah. Has some damage. Has a small dent/scratch to the frame, the headlight broke off but we still have it, could use a cleaning. We will throw in a SIGNED picture from Deborah Ann Woll to go with your new bike.