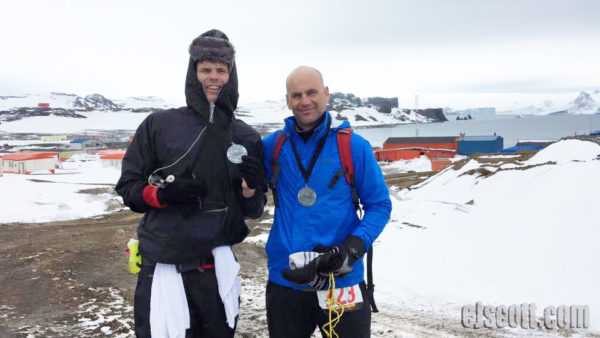 In the podcast below, EJ talks about his experience at marathon in Antartica.  This was the first of the seven marathons he will run on seven continents this year to raise money for his charities.  
He says:
I am losing my eye sight to an eye disease called Choroideremia. It is degenerative and genetic. So others in my family have it as well. My brother and two nephews. My grandfather went blind in his 40s. I turned 40 in November 2015 and in an effort to see the world before I can't anymore and also to raise awareness and funds for many worthy charities and organizations (Alzheimers, Parkinsons, Autism, Tourettes, ALS, Blindness, Mental Health, Rett Syndrome, Crohns Disease, Cancer, Animals, Kids). With the goal to be $500,000 in total by the end of the year.

I am legally blind and as part of my Choroideremia symptoms I have a sensitivity to light especially sunlight. So I run these marathons blindfolded. However, for Antarctica it was so cloudy I didn't need to. My intentions of running the full marathon change early in the run due to my health and physical condition. I talk about all of that plus I speak with my running guide and other runners and the guy that put the whole thing together. This was called the White Continent Marathon with Marathon Adventures.

Its a long one but theres lots going on. I hope you enjoy it. I will be making a podcast for each marathon. Please help me reach my goal for these important charities by going to www.crowdrise.com/7on7
Photos from the Marathon:
In the latest "Scratch the Surface" podcast below, listen to EJ as he talks about his efforts for this marathon while not feeling very well with his friend David J. Wright. Dave was EJ's guide during this run and also served as his guide in several of his 2012 runs.
There's lots more, so give it a listen.
Please share with your friends on social media or any other way.
Also, be sure to listen to EJ's other podcasts because those are pretty amazing also.
Please help EJ raise money for Autism, Cancer, Parkinson's, Alzheimer's, Rett Syndrome, Crohns Disease, Tourette's, mental illness, animals, children's health, blindness at 

www.crowdrise.com/7on7 

or click on the image below:
PLEASE CLICK ON THE IMAGE TO DONATE
AS MUCH AS YOU CAN!!!