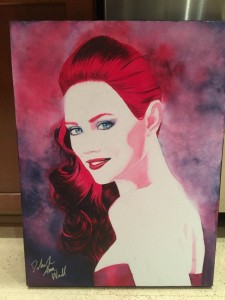 EJ and his girlfriend, True Blood's Deborah Ann Woll are raffling off a donated painting by fan and supporter, Steve Cleff. The painting is an original watercolor by Cleff which is 18″ x 24″ in size.
The proceeds from this painting, signed and personalized to the winner by Deborah, will be put to good use. The money raised will help to pay the costs of EJ's upcoming marathons.
Next year, in 2016 EJ Scott will run a marathon blindfolded on each continent of the world hoping to raise $500,000 for multiple charities including Choroideremia, ALS, Alzheimer's, Parkinson's, Rett Syndrome, North Shore Animal League, and Jamie Oliver's Food Revolution.
Deborah will personalize the painting for the winner; any name they want.
Learn more by watching the video below:
The winner will be chosen at random by Deborah on video and posted on Facebook and Twitter. We will write all the entries names on tickets and put them in a hat or a bowl, mix them up and choose at random.
$10 = 1 entry
$50 = 6 entries
$100 = 13 entries
WORLDWIDE SHIPPING!! They will ship for FREE up to $50. That should cover most of the world.
Please enter often!
ENTER HERE TO WIN and to find out more information about it: crowdrise.com