I'm EJ Scott and I'm turning 40 and will also be running a marathon on every continent next year (2016) for charity! 
Join me on Wednesday, November 11, 2015 in Los Angeles at the El Cid. There will be a few really great bands there and, of course there's a bar and great atmosphere. If you've never been there, nows the time.
ALL ARE WELCOME!!​
The first $10 at the door will go to El Cid everything additional will go to the cost of getting me and my guide, David, to Antarctica in January. I run blindfolded and need a guide. 
For 2016, my goal is to raise $500,000 for charities benefiting:
Autism
ALS
Alzheimers
Blindness
Cancer
Crohn's disease
Mental Illness
Parkinsons
Rett Syndrome
Tourettes
Animals and children
As you probably know I am legally blind from a degenerative and hereditary eye disease called Choroideremia. My brother and two nephews also have this disease. My grandfather went blind in his forties. So for my 40th year Im going to see the world while I still can and raise some money for causes that mean a lot to me. 
Below is a list of the marathons I'll be running:
(Antarctica) – January
Tokyo, Japan (Asia) – February
London, England (Europe) – April
Rio De Janeiro, Brazil (South America)- May
South (Africa) – June
Sydney, (Australia) – September
Toronto, Canada (North America) – October
If you can't make it to my birthday party, and would still like to help, please click HERE (or on the image below)  to donate to the marathons: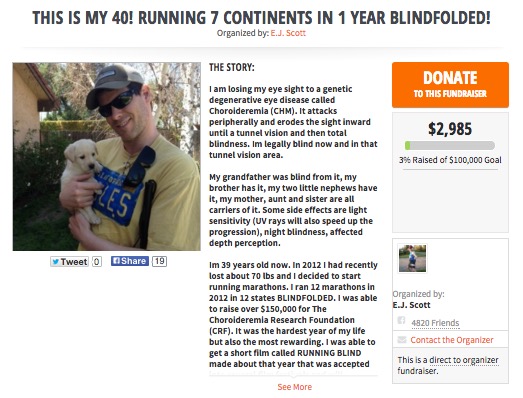 and/or click HERE (or on the image below) to look at the charities and donate there.