EJ Scott and Deborah Ann Woll, vampire Jessica Hamby for seven seasons on True Blood is raffling off an outfit Deborah wore on the show.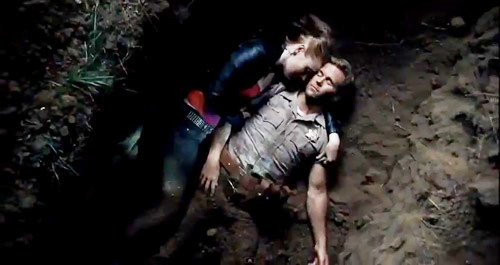 This outfit was used in multiple episodes of True Blood. The outfit was used in an episode where Jessica saved Jason and buries him to heal his wounds. So there is blood and dirt still on the outfit. The outfit comes with pants, jacket and shirt.
Any one of these items on their own could go a great deal, but EJ and Deborah Ann are offering them as a package.
$10 = 1 entry
$50 = 6 entries
$100 = 13 entries
This is a chance to have a piece of television history and for a great cause.  
The winner of the raffle can decide:
if they want it signed (one signature)
and placement of the signature.
They can also opt for no signature.
Watch Deborah Ann model and talk about the items below:
The winner will be chosen at random by DEBORAH on video and posted on Facebook and Twitter. We will write all the entries names on tickets and put them in a hat or a bowl, mix them up and choose at random.
WORLDWIDE SHIPPING!! We will ship for FREE up to $50. That should cover most of the world.
Please enter often and tell your friends and family on social media. The winner will be chosen sometime in February.