TV MARATHON for the CHOROIDEREMIA RESEARCH FOUNDATION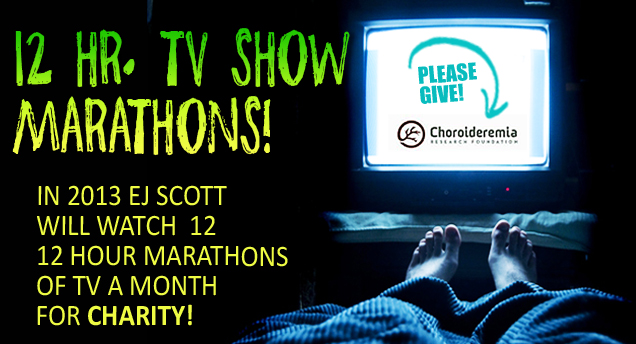 EJ Scott says:
I'm watching my third show in my marathon of TV viewing.  This time it's "MAD MEN," and I'm calling it "Mad Men March."
My first two marathons went very well with "Homeland" and then "Game of Thrones."  I'm huge fans of both now.  I've been dying to get into "Mad Men" and have seen the first episode or two a handful of times but never got further, so it's my #3 marathon. 
Last year I ran 12 Marathons in 12 States in 12 Months. That's a lot of work. I think most people would look at what I did and either get motivated to try something to help or the opposite. They might look at it like "I cant do that!" I used to watch BIGGEST LOSER and it was intimidating to watch these people break their asses. It made me not want to exercise or lose weight. It seemed too hard. Then I lost weight on my own a couple years ago and it wasn't extreme and it was still healthy. It took 8 months to lose 70 lbs. and its a daily battle to keep my weight at a healthy level. Not because of my body but because of my mind. I still eat the wrong things sometimes and too much of it. Anyway, I lost weight and raised money for the foundation. I didn't really think I would've been able to, but i did! It was pretty great!
So now I'm doing the total opposite of running. I'm sitting. For long periods of time watching great television. The idea is watching shows I never got into but wanted to get into. Its thinking outside the box fundraising. You don't have to torture yourself. You can do something fun and get people involved. So please join me on Twitter @ejscott (i'll be tweeting now and then) and give to my cause. We are still far from a cure and need funds for research.
March 2013 marks my 10 year anniversary of being diagnosed with CHOROIDEREMIA. So please donate, by clicking on the button below and help me get this thing cured before another 10 years goes by. Thank you.
 Donate using the button below: