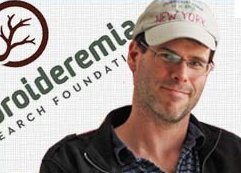 It's true, 10 years ago this month I was diagnosed with Choroideremia. Help me insure that another 10 years won't go by without a treatment or cure.
Last year I ran 12 marathons (26.2 miles each), in 12 states in 12 months. My goal was to raise an average of $12,000 per race ($144,000 total). I'm happy to report that because of the support and help and a HUGE fundraiser in Chicago by the KING family WE raised over $150,000!!!
Thank you so much to everyone that donated and tweeted and posted and emailed and went to a benefit show or performed in one.
This year I'm doing another 12 marathons except this time they are TV marathons. It sounds silly but I wanted to make the point that you don't have to run 12 marathons to raise money for a good cause. So one day a month I am watching 12 hours of one show. Shows I haven't seen before. January was HOMELAND, Feb was GAME of THRONES, March was MAD MEN, and I'm trying to raise money for the Choroideremia Research Foundation.
A great guy and filmmaker, Ryan Suffern, has helped me put together a short film to use as a way to gain awareness and donations. And we have already been accepted in a great film festival (which I'm not allowed to talk about yet).
Please continue to support until this stupid thing is cured. Thank you so much!!! 🙂
You can see clips of all my races on my youtube page:
www.youtube.com/ejscott
Read my blogs about my marathons:
www.ejcurechm.blogspot.com
Follow me on Twitter
@ejscott
Much Love
EJ