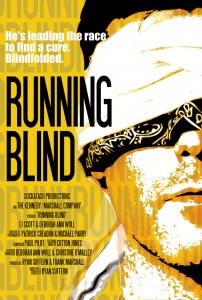 Please be advised that the documentary about EJ Scott's quest to run 12 marathons in 12 months in 2012 is now screening all over the country.
'Running Blind' is the story of EJ Scott, who last year set out to run 12 marathons in 12 states for charity, and he did them all blindfolded.
EJ suffers from a rare degenerative eye disease called Choroideremia, and several years ago, he was diagnosed as legally blind. However, instead of wallowing in self-pity, EJ has responded positively to his misfortune, and he's now doing everything in his power to help raise awareness and funding for a possible cure. EJ's journey while running these marathons is an inspiring tale of strength overcoming adversity, and it's ultimately a reminder that one person can indeed make a difference.
DIRECTOR: Ryan Suffern / RUN TIME: 32 minutes
Check out the upcoming screenings below.
Upcoming Screenings with some also attended by EJ Scott and Deborah Ann Woll of True Blood
October 10 – 6:00 pm – BendFilm Festival,  Bend, Oregon (Q&A w/Ryan Suffern) website: bendfilm.org
October 11 – 5:30 pm – BendFilm Festival, Bend, Oregon (Q&A w/Ryan Suffern) website: bendfilm.org
October 12 – 12:30 pm, Flagstaff Mountain Film Festival  Flagstaff, Arizona (Q&A w/EJ Scott) web site: flagstaffmountainfilms.org
October 12 –  7:30 pm, Flagstaff Mountain Film Festival  Flagstaff, Arizona (Q&A w/EJ Scott) web site: flagstaffmountainfilms.org
October 17  – 7:00 pm, My Hero Project  , Santa Monica, CA (Q&A w/Ryan Suffern & EJ Scott)  web site: My Hero
October 20 – 3:00 pm, Hollywood Film Festival, Hollywood, CA (Q&A w/Ryan Suffern & Deborah Ann Woll) hollywoodfest.com
October 22 – 12:15 pm, Heartland Film Festival,  Indianapolis, IN (Q&A w/EJ Scott)  trulymovingpictures.org
October 25 – 6:15 pm, Heartland Film Festival ,  Indianapolis, IN (Q&A w/EJ Scott)  trulymovingpictures.org
October 26 – 10:30 am, Heartland Film Festival , Indianapolis, IN (Q&A w/EJ Scott)  trulymovingpictures.org
October 25 – 6:00 pm, Washington West Film Festival, Washington, DC  (Q&A w/Ryan Suffern & EJ Scott) wwfilmfest.com
October 27  – 11:00 am, Washington West Film Festival  Washington DC  (Q&A w/Ryan Suffern & EJ Scott) wwfilmfest.com
November 9 – 3:00 pm, Ojai Film Festival  Ojai, CA (Q&A w/Ryan Suffern & EJ Scott)  ojaifilmfestival.com
November 10 – 5:30 pm, Ojai Film Festival Ojai, CA (Q&A w/Ryan Suffern & EJ Scott)  ojaifilmfestival.com
November 11 – TBD , IO West,  Hollywood, CA   (Q&A w/Ryan Suffern & Deborah Ann Woll)
TBD Creative Activist Arts Festival, Santa Monica, CA (festival dates November 15 & 16)
November 17  – TBD, MF On Tour at Lincoln Centre, New York, NY (Q&A w/EJ Scott)
Learn more about the screenings and the documentary by going to the Running Blind web site:  runningblindthemovie.com